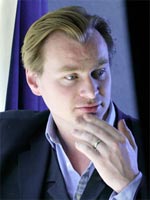 As if you needed reminding that this is a pretty good summer for a certain Mr. Christopher Nolan, BAFTA/LA — the Anglo-American wing of the British Academy — has handed him their annual John Schlesinger Award for artistic excellence in directing. The award will be presented at their 2010 Britannia Awards ceremony in Los Angeles on November 4.
You'd be well advised not to read too much into this award as far as general BAFTA voting goes: last year, Emily Blunt was named British Artist of the Year by BAFTA/LA for her performance in "The Young Victoria," and received not so much as a BAFTA nomination for her pains. Shared acronym aside, the two awards ceremonies bear little relation to each other.
Indeed, Nolan is the first filmmaker to land this particular gong in a year that could even be deemed his for the owning. Previously, BAFTA/LA has had a habit of rewarding directors the year after a notable achievement on their part: Danny Boyle in 2009, Stephen Frears in 2008, Martin, uh, Campbell in 2007, and so on. Clearly, they feel that "Inception" is an achievement that warrants less delayed recognition — which may or may not be significant.
Meanwhile, British Artist of the Year, the title awarded to Blunt last year, has this time been bestowed upon Michael Sheen. Some might say that he's had better years than the one in which he reprised his Tony Blair impression yet again for the small screen and had the misfortune to land in Tim Burton's "Alice in Wonderland," but what do they know? Congratulations all round.
[Photo: Esquire]