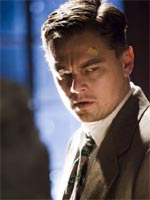 As that finicky final shot of "Inception" continues to prompt confusion and discussion in comment boards across the internet, it would appear that some people still aren't done processing Leonardo DiCaprio's first puzzle pic of 2010.
Much has been made of the sizable overlap between Christopher Nolan's summer blockbuster and Martin Scorsese's winter genre exercise "Shutter Island" — not least in the respective characters played by the films' mutual leading man — and this extends to ambiguous finales that, in both cases, cast doubt on said character's state of consciousness.
I must admit I wasn't aware that the debate over the end of "Shutter Island" is quite so extensive; perhaps because I watched the film with Dennis Lehane's novel — to which the film is letter-faithful for the first 99% of its running time — so fresh in my mind, I didn't give the film's minor digressions a second thought. (I wasn't all that engaged anyway.)
But a few days ago, The Guardian's David Cox revived the discussion, breaking down two opposing interpretations of a key line of dialogue (spoiler alert, obviously):
[B]efore he falls into the clutches of the lobotomists, [DiCaprio] utters a line that isn't in the book. "This place makes me wonder," he asks, "which would be worse – to live as a monster, or to die as a good man?" For some, this is to be seen as no more than the rambling of a madman. Others, however, take it as meaning that Andrew's only faking his relapse. His unusual treatment's made him aware of the terrible thing he's done: guilt has therefore engulfed him, and he's deliberately getting himself lobotomised to escape it.
With the endorsement of the film's own psychiatric consultant, Cox arrives at the conclusion that the latter reading (which, it should be said, requires a figurative definition of death) is the only correct one: DiCaprio's body language in the final scene, he argues, suggests the character's complicity in his fate. The former reading, however, has a notable adherent in the form of Dennis Lehane himself:
Personally, I think he has a momentary flash. To me that's all it is. It's just one moment of sanity mixed in the midst of all the other delusions … My feeling was no, he's not so conscious he says 'Oh I'm going to decide to pretend to be Laeddis so they'll finally give me a lobotomy.' That would just be far more suicidal than I think this character is. I think that in one moment, for a half a second sitting there in that island he remembered who he was and then he asks that question and he quickly sort of lets it go.
That was the conclusion I took away from the film, but as I said, Lehane's novel had already predisposed me to such an interpretation. As more of you revisit the film on DVD, has the issue been on your mind? Where do you stand? And who else would like to see Leo play someone a little more mentally together in his next film?