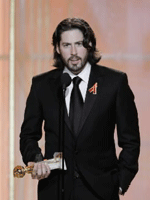 Jason Reitman announced shortly after last season's "Up in the Air" bonanza that his company had acquired the rights to Joyce Maynard's novel "Labor Day." But it turns out that, while he's hard at work on drafts of that adaptation, another original script from "Juno" scribe Diablo Cody is what's on deck for the director.
Mike Fleming reports at Deadline that Cody's "Young Adult" is being set up through John Malkovich's Mr. Mudd production company for Reitman's next gig behind the camera. 2007's Oscar-winning "Juno" was also set up through Mr. Mudd.
Charlize Theron is set to star as "a ghostwriter of young adult novels who realizes she has no identity with her pseudonym and plots to reclaim her identity," Fleming writes. "Her campaign involves going back and rekindling a relationship with her high school boyfriend–who's freshly married, is a new father, and wants no part of her."  Reitman, meanwhile, compared the material to "To Die For" when we exchanged emails.  Sounds exciting.  He plans to go right into production on "Labor Day" after this project.
Check out the rest of the story at Deadline.