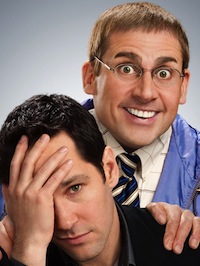 *All historical figures cited are adjusted to today's dollars.
Hey gang. Sorry this is late but I spent all morning at work and then all afternoon at the Home Depot Center watching the Galaxy get shellacked by the Chicago Fire and getting a sunburn on half my face. I'll try to keep it short and sweet.
The number one movie, for a third weekend in a row, is "Inception." It's the third film to spend three weeks at the top in 2010, but the first that wasn't in 3D. The drop was 36%, a bit harsher than last weekend's slip and gave it $27.5 million for the three days and $193.3 million total. The film is holding fantastically well and will be only the third live action film of the summer to cross the $200 million mark. The $268.4 million of "The Matrix" is not out of reach, which would make it the most successful original sci-fi property since "Independence Day." that movie with the big, blue things.
"Dinner for Schmucks" performed to expectations with $23.3 million. As I mentioned on Friday, that's a bit above normal for Paul Rudd, who is used to sharing a bill with B-listers like Jason Segel and Seann William Scott. Throw Steve Carell in the mix and you're good for an extra few million. Throw in an animated Steve Carell in a ridiculous accent and you're good for the surprise smash of the summer. No wonder he's leaving "The Office."
"Salt" dropped 47% to $19.3 million, but it's already passed $70 million domestically and will soon pass "Knight and Day," which is the vehicle Tom Cruise assumed would be better for his career when he passed on "Salt."
A heated battle is taking place for fifth place as "Cats & Dogs: The Revenge of Kitty Galore" and "Charlie St. Cloud" are both estimated to pull around $12.5 million. The former is a straight up stinkbomb considering the screen count and sequel status (regardless of how forgotten the original film is). A reported $85 million budget isn't helping either.
The latter is par for the course for a weepy summer title, but troubling when you consider how much of that figure came just on Friday. Teen girls must have rushed out for the Efron and now it will have to earn word of mouth with older adults to stick around and pull "The Notebook" style numbers.
"Despicable Me" is still shuffling around with $15.5 million and a new total of $190.3 million. I can't remember if I noted it before, but it is the first recent animated title to make more from 2D screens than 3D when both were an option. Not sure what that means, except that maybe people don't want vaguely insensitive, ethnic-stereotyped noses popping out at them.
"Grown Ups" became the eighth (!) Adam Sandler film to cross $150 million at the box office. It also became Rob Schneider's eighth film to cross $150 million at the box office, but it's not what you think. There was no place for big Rob in "Anger Management" (I think Nicholson had a hand in that) so "Home Alone 2: Lost in New York" has to fill the gap.
"The Kids Are All Right" couldn't translate its art house success to the multiplex. The film went from 200 screens to 850 and could only increase its weekend gross by 33%. Twelfth place is the result and Hollywood will have to endure more cries of liberal elitism if it decides to award the film any significant prizes at the end of the year.
"Get Low" had a fine start in four theaters, earning $90,000. This one is going to be tough for Sony Classics to expand anywhere past $2 million and I for one, can't see any awards traction coming its way. I don't care how good Robert Duvall's beard is.
This week, I plopped down $7 to see "Kisses" at Sunset 5. It should have been called "Montages." Director Lance Daly has a nice eye, but he stretched flimsy material out for way too long and with a heavy hand. Pre-teen Kelly O'Neill gives one of the best female performances of the year, though.
What did you guys see? Here are this week's top grossing films courtesy of Exhibitor Relations: