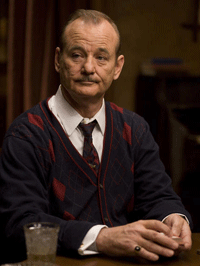 Costume design in many ways represents much about the Oscars: glitz, glamor, beauty. But obviously threads do much more than make movie stars look attractive.  They build character, set mood, define period and serve as a defining design aspect of a film.
Like art direction, the nominees for here overwhelmingly fall into one of two categories: period or fantasy. Indeed, when two contemporary films ("The Queen" and "The Devil Wears Prada") were nominated in 2006, it was a rare occasion.
It's not an exact science, but while a fantasy film is almost always nominated every year, there is usually only one as four films tend to be period. It also should be noted that recent winners in the category have all highlighted British or French royalty and high society.
Being a Best Picture contender does not hurt with this branch (same with any), but the branch also does a great deal of thinking for itself. Last year, for instance, both "Bright Star" and "Coco Before Chanel" managed nominations here, the only ones for their respective films. In the last four years, four other films ("Curse of the Golden Flower," "Marie Antoinette," "Across the Universe" and "Australia") have also managed the feat, rare for crafts categories.
While the category consistently welcomes one-to-three new nominees every year, it also has its favorites. And in this regard, it's useful to start with three of those favorites, who I suspect are likely nominees this year.
Leading the way this year, at least in terms of probability of nomination, would seem to be Colleen Atwood for "Alice in Wonderland." Tim Burton's frequent collaborator has earned eight nominations and two wins to date. On this latest effort, she got to combine period and fantastical elements in a distinctively Burtonesque way. The film's massive box office can only help.
Atwood's most frequent co-nominee in recent years has been the great Sandy Powell. Powell won her third Oscar (on her eighth nomination) last year.  In 2010, she is doing the designs for Julie Taymor's "The Tempest." Taymor is, in my opinion, a far better theater director than a film director, but there is no doubt her visual sense is extraordinary. In fact, all three of her cinematic efforts have earned nominations in this category. The combination of Taymor plus Powell leads to a likely nomination in my opinion.  (Powell also outfitted "Shutter Island" this year.)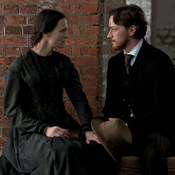 Yet another eight-time nominee is Jenny Beavan. Unlike Atwood and Powell, however, Beavan has not been nominated since 2001.  In fact, six of her previous nominations have come for Merchant-Ivory films. This year, however, she has the opportunity to costume the British royal family in Tom Hooper's "The King's Speech." If this film is a success (and I suspect it will be), I would fully expect to see Beavan return to the race.
Seeking her first nomination this year is long-time Coen brothers collaborator Mary Zophres for "True Grit." Zophres has done great work in the past and this western will likely be her most Oscar-friendly effort to date, being a true period piece, likely with more showy costumes than past efforts. Remakes are always hit-and-miss with Oscar but the Coens rarely make a bad film so I would expect, at the very least, below-the-line possibilities across the board.
Another Americana period piece is "Get Low," releasing this week to great reviews. Whether such a small film can survive to year's end is a matter of some debate. But if it finds a home anywhere outside of its leading man, I would look to Julie Weiss's clever threads.  She has two nominations to her credit so this branch evidently can show appreciation for her atypical designs.
Also seeking her third nomination this year is Jacqueline West for Terrence Malick's "The Tree of Life." West will have the opportunity to build the characters of a family over several decades. Malick is hardly a typical Oscar director and Apparition is hardly a powerhouse studio, but given West's talent, and the director's tendency to inspire passion, it would be foolish to rule this out.
Long-term Steven Soderbergh collaborator Louise Frogley likely came very close to a nomination in 2005.  This year she designs 1860s America on Robert Redford's "The Conspirator," seemingly the sort of effort (strong director and strong timeframe) this branch would embrace. The still lacks a distributor, however, which I always find problematic in the last week in July.
Peter Weir's "The Way Back" is also seeking a distributor, which makes me hesitant. But there is no denying Weir is historically an AMPAS favorite and this trek through oppressive Russia will blend together period and cultural elements. Weir's wife, Wendy Stites, is the costume designer for the film and was nominated once before.  I do expect her to be a contender should the film be released this year.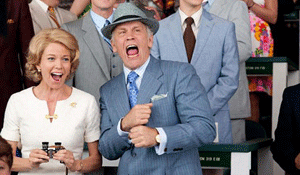 Gabriella Pescucci's threads for "Agora" are right in this branch's wheel house. Alas, the film was pretty much a failure in catching on with critics or audiences. Pescucci has been nominated once in the each of the last three decades, but perhaps this could be her turn in the 2010s? I still suspect the film will be totally ignored. But if it finds a home anywhere, I find this is the most likely spot.
Ridley Scott's "Robin Hood" made much more money than "Agora," but its high expectations set it up for disappointment.  That said, Janty Yates's costumes were the sort of historic and glamorous designs this branch frequently embraces.  She  has not been nominated since her win a decade ago for another Ridley Scott historical epic.  Odds are against a return but I still wouldn't forget this title, especially if the studio chooses to push it in the crafts categories.
At this point, I'd look to two titles that remain relatively unknown entities but are based on prestigious books in mid-20th Century England and I feel could catch on in this category.  I'm speaking of Rachael Fleming & Steven Noble's costumes for "Never Let Me Go" and Julian Day's on "Brighton Rock." The names behind these titles are for the most part Oscar novices but I feel both could catch on and, if they do, this is among the first categories where I would expect to see them find a home.
I'll end by looking at a title many doubt will catch on but I still want to keep my eyes on: Disney's "Secretariat." We cannot deny that the range of costuming we've already seen in trailers and stills. So I'd say it's worth considering the potential of Michael T. Boyd.
We'll see how many of these films perform in the coming months. The Venice and Toronto film festivals will likely be helpful in serving as oracles. Next week, we move on to Best Film Editing.