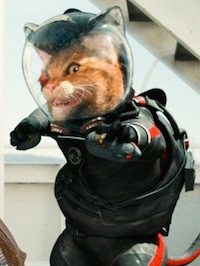 *All historical figures cited are adjusted to today's dollars.
Hey kids! How about that terrifying photo to the right? Make you want to see cats and dogs brutally fighting to the death voiced by Nick Nolte and Joe Pantoliano? While Chris O'Donnell looks on confused? Of course it does. We've got three new releases this week but are probably looking at a third straight week at the top for "Inception."
"Cats & Dogs: The Revenge of Kitty Galore" is probably a half decade too late to capitalize on any good will the audience had for the original (a $131 million grossing summer surprise). Warner Bros. has even wisely lopped off the number two from the title since what few fans there are will know and anyone else might just think it's a family film with a cool concept. They've also given it a hefty 3,700 screen count.
Here's the thing though. With "Alvin and the Chipmunks: The Squeakquel" being the only exception, talking animal movies have terrible drop offs from the original to the sequel. "Babe," "Garfield" and "Stuart Little" can all attest. With so much time in between films here, and the almost identical "G-Force" less than a year old, it seems like these cats and dogs are headed for the same pile. I think $17 million is the best they can hope for.
"Dinner for Schmucks" fills the remake quota of the week, turning a French hit into an excuse to have our favorite comedic actors act mentally retarded for an hour before probably teaching us some lesson about how we're all unique and beautiful in our own ways. Steve Carell headlined comedies tend to be good for a $20-$30 million opening, while Paul Rudd hovers closer to just $20 million. Their last collaboration, "The 40-Year-Old Virgin" opened with $26.6 million but that actually looked funny so we'll say $22 million for this one.
Then there's "Charlie St. Cloud." Some sort of tearjerker for the ladies, I couldn't get through the trailer because Zac Efron was distractingly attractive in it. Seriously, that guy has a nice face. Sappy melodrama, coupled with said face means we're working primarily with females here, but adults could turn up given the dearth of other options for them. It's an uphill battle for Universal though and I think it'll start around $13 million.
"Inception" fell only 32% last week and usually the third weekend drop improves from the second. Not to constantly be the negative nelly towards this film but I'm not sure it can achieve that. Word of mouth is strong but I think it'll fall another 35% (not too shabby) and pull $28 million for the weekend, enough to win again.
"Salt" could fall around 45% to $20 million since I haven't heard a single person talk about this movie, while"Ramona and Beezus"" should hold a tiny bit better than that and end up with $4.5 million, making the $31.3 million grossing "Monkey Trouble" look like "Transformers" by comparison. (I saw "Monkey Trouble" in the theatre)
Finally, "The Kids Are All Right" expands wide to 847 theatres. It did $2.6 million on 200 this week but with each expansion comes harder territories to convince a movie about gay people and their problems is worth paying $10 for. I think it could do a shade under $5 million.
What are you guys seeing this week?
[Photo: Warner Bros.]