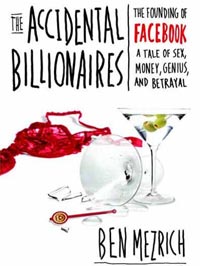 (NOTE: This week's Page to Screen text is the source material for David Fincher's upcoming film "The Social Network.")
If, with its short, sketchy chapters and preponderance of surface-level description, Ben Mezrich's "The Accidental Billionaires" resembles less a work of literary non-fiction than a treatment for a more substantially developed screenplay, that's probably precisely what the author intended: after all, the movie rights to Mezrich's thin, gossipy account of the birth of Facebook were snapped up well before he'd even finished writing it.
Mezrich has turned this trick before: his 2003 bestseller "Bringing Down the House," the story of a group of Massachusetts Institute of Technology students who managed to swindle millions out of top Las Vegas casinos, was recently turned into a reasonably profitable (if rapidly forgotten) film, "21." Mezrich's work certainly commands more respect from Hollywood than it does from literary critics.
A former sci-fi author, Mezrich delights in fudging (and often blatantly fabricating) the facts in his non-fiction work: a disclaimer at the start of "The Accidental Billionaires" acknowledges that numerous "conversations and scenes [have been] recreated and compressed," verbs that sound decidedly euphemistic by the time the writer is casually describing the interior thoughts of people he admits to never having met. (Mark Zuckerberg, the young Facebook founder at the center of Mezrich's story, refused any meetings or interviews with the author, giving this already skimpily researched volume a distinctly lopsided perspective.)
If Mezrich's glib, unacademic non-fiction style is an appropriate starting point for sleek, dumb entertainments like "21," then, it poses greater obstacles for the makers of a high-end drama like "The Social Network." The very change of title in Aaron Sorkin's adaptation of "The Accidental Billionaires" implies a shift from the sensationalist to the sober; Mezrich's book is lasciviously subtitled "Sex, Money, Betrayal and the Founding of Facebook," while the marketing materials for David Fincher's film thus far seem at pains to underline the more humane elements of the material.
Successfully adapting the book, however, will require more of Sorkin than simply elevating the tone and tarting up Mezrich's frequently pedestrian prose; some structural and narrative overhauling is in order too. The problem isn't Mezrich's reluctance to let the truth get in the way of a good story – in that regard, he's a natural for the movies – but his curious inability to find the story here at all. For such a brief read, the book drags and cautiously dawdles around its key conflicts, suggesting the author, for all his flights of fancy, was inevitably handicapped by his lack of access to his subject.
Worse still, considering the lurid beach-read appeal of that subtitle, "The Accidental Billionaires" isn't as much trashy fun as it thinks it is: the "sex" is limited to tame flirtations, as Mezrich repeatedly states his astonishment that successful computer geeks can pull hot college blondes, while the "betrayal" is mostly in the shape of bloodless business exchanges and unseen court cases. (The most intense drama in the book appears to take place between the lines in a two-page "where are they now" coda.)
The Facebook story may have made for a tepid book in this instance, but that's not to say it doesn't have enormous promise: even if Mezrich never satisfactorily figures out what makes him tick, Mark Zuckerberg is a fascinating protagonist, and a potential gift of a part for an ideally cast Jesse Eisenberg. Mezrich paints Zuckerberg, the Harvard junior who conceived Facebook initially as a"hot or not" site rating the physical attractiveness of his female fellow students, as a sour, socially autistic genius for whom the creation of the world's largest social network compensates for a lifetime of not belonging.
Much the same goes for Zuckerberg's college mate and Facebook co-founder, Eduardo Saverin, a business-minded milquetoast who inevitably gets the rug pulled out from under him when their company goes supernova. Mezrich's sympathies lie unapologetically with Saverin (not surprising, since he agreed to be interviewed extensively by the author), which actually hinders the character more than it helps. Still, his blandness makes him a useful dramatic foil to the protagonist: where Severin, awed by the social structures of Harvard's fraternities, craves a way into the establishment, Zuckerberg seeks only to supersede it entirely.
Rising star Andrew Garfield is a good fit for Saverin's gangly but eager outsider status, even if he's not the first face you'd think of to play a Jewish-Brazilian immigrant from Miami. (Justin Timberlake, on the other hand, couldn't be any more neatly tailored for the film's third-largest role: that of super-smarmy Napster whizkid Sean Parker, who helps Zuckerberg freeze out Saverin only to have the tables turned on him. One wonders whether Mezrich already had Timberlake in mind when he titled a key chapter involving Parker "What Goes Around….")
With scant personal background to substantiate it, Mezrich's thesis, that Facebook has its roots as an outsized individual fantasy for the geek to inherit the earth, is a slender one, but not uninteresting with it. To unlock the dramatic potential of the material, Sorkin and Fincher would do well to mine the inner anguish of the characters more than their professional squabbles; pushing the issue of acceptance and outsider-ness should arouse questions in the viewer of why they use Facebook in the first place. (The film's most recent trailer, scored as it is to a choral version of Radiohead's misfit anthem "Creep," suggests such a take is on the cards.)
This kind of penetrating human study should be something of a leap for Sorkin, whose writing – from "A Few Good Men" to "Charlie Wilson's War" and his somewhat overpraised TV series "The West Wing" – tends to trade in smug rhetoric and neat dramatic symmetries rather than more complicated pain and questioning. He is, however, a smart enough writer to recognize the limitations of Mezrich's would-be novel, and hopefully evade them by getting closer to, and messier with, its fucked-up antiheroes. The best case scenario is for "The Social Network" to join Fincher's "Fight Club" as a kind of temperature-read of current social fractures and bourgeois concerns, rather than merely a high-minded, Oscar-targeted biopic.
[Image: Knopf Doubleday]