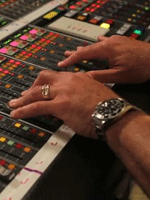 The most recent predictions update substituted "The Last Airbender" (which failed miserably with critics) with "Salt" in the sound categories, and it wasn't blind speculation. After all, the sound crew consists of such multi-lauded talents as Scott Millan and Greg P. Russell. Russell, as you know, has racked up some 13 nominations without a win.
The trusty folks at SoundWorks Collection have once again produced a stellar featurette that really puts you into the world of the sound mixers and editors on the project. There's plenty of discussion about blending the various elements together as well as discussion of James Newton Howard's score, which is another great pulse-pounding effort form the composer.
At the end of the day, this could be a surprise pair of nods akin to the "Wanted" one-two punch in 2008.  So watch out.  Head on over to SoundWorks Collection to see the 6-minute video, or click on through to watch an embed after the jump.
[Photo: SoundWorks Collection]