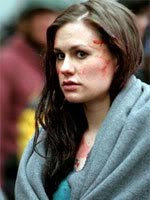 Last year, I dedicated a couple of posts to the mysterious case of "Margaret," Kenneth Lonergan's seemingly terminally delayed follow-up to his 2000 directorial debut "You Can Count on Me." The film, a character drama starring Anna Paquin as a traumatised witness to a bus accident, with Mark Ruffalo and Matt Damon in support, was shot in 2005 — but has been stuck in the editing suite ever since.
Working from a vast, ambitious 168-page script, Lonergan has reportedly been unable in four years to complete a cut of the film that pleases him. (This extensive LA Times report details the financial and legal consequences of his creative blockage.) However, just as the issue had slipped from memory — with many assuming the film would never be released at all — Anne Thompson dropped this brief but encouraging update from distributor Fox Searchlight a few days ago:
Searchlight states: "we do have a finished cut by Lonergan and we plan to release the film sometime in 2011."
This is obviously good news, though one does wonder how the finished film will hold up to the level of scrutiny brought about by a six-year wait. Some circumstances, at least, have worked out in "Margaret"'s favor: in the wake of "True Blood," Paquin is arguably a more marketable name than she was at the time of the film's shooting, while Ruffalo might well be coming off a profile-raising awards season run by the time it hits screens. (Damon, of course, is still Damon.)
Meanwhile, the memory of 1994 Oscar-winner "Blue Sky" (left to gather dust for three years when production company Orion collapsed) is a reminder that long-shelved or delayed projects can still regain a measure of prestige when they eventually surface. Of course, "Margaret" is a trickier proposition — some feedback from test screenings over the years suggested deeper-rooted problems than editing conflicts — but as a Lonergan admirer, my fingers remain crossed.
[Photo: The Playlist]