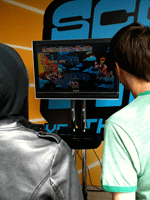 My Comic-Con experience ended a bit sooner than I expected this morning when I woke up and decided whatever was on the Sunday docket wasn't as fetching as a three-hour ride in traffic back to LA. That's how exhausting the convention was this year.
Here's the thing. We all know Comic-Con and its 125,000-plus attendees form nothing more than a marketing bonanza in this day and age. No need to preach down to those who were there if you decided to remain back on your high horse and wait it out. You're not enlightened. We get it. The event's roots had a completely different shade and Hollywood has invaded the territory. But at the same time, as Hero Complex's Geoff Boucher shrewdly pointed out before Saturday's Warner Bros. presentation, Comic-Con — or comics, in general — has also invaded Hollywood.
So what we have is a symbiosis that plays right into the hands of studio marketing chiefs. No one can fault businessmen for making business decisions, but I think it would be worth it for Comic-Con brass (whoever they are) to take stock of what's happening here. A craven desire to sell as many passes as possible, secure as many big names as possible and bloat the festivities with dubious material has taken things far from where they started, yes. But the thing is so stressful, people are stabbing each other!
I actually think there's a lot of truth to a piece like this, which speaks to the sheer discomfort of the event. The powers that be know they can do what they want with their programming and the fans will come, but with great power comes great responsibility, right? I'm not saying anyone or anything is specifically to blame for an unfortunate, random occurrence, but I do think it's time to consider what the hell you're doing and reassess rather than let the train speed on, out of control.
Nothing ever contracts in the world of entertainment. Expand, expand, expand. Streamlining and reduction is a signal of weakness, some seem to think. But it would be admirable to bring this thing down from 11, try things on a lower frequency. As if, right?
Also, a certain level of competence would be nice — as in, realize that if you have a day full of Hall H film panels no one's interested in while Ballroom 20 is forming lines snaking around the entire damn complex, it's probably time to stop exclusively offering your biggest room to big screen stuff. Year in and year out the thing seems to be run by oblivious fools, and that trickles right down to the rent-a-cops who wait too long to break up a fight that ends in bloodshed.
So why bother? I cover the event because I'm a geek at heart and don't have to answer to anyone. That's a luxury few share, I'm aware, but I enjoy bringing the reactions, both public and mine, to the readership. Many of you couldn't care less, many of you are moderately interested and many of you want to hear every single nugget you can. But the truth is, I cover Comic-Con for me, and I hope through that prism you might glean some interesting insight or find out a little more about who I am. And God knows there's rarely anything else worth discussing during this stretch.
It's also a nice palette-cleansing exercise before the lofty awards season hits. After all, it's not often that Oscar and Comic-Con overlap.
This year, though, felt somewhat different. Few really took advantage of the Hall H opportunities and instead just brought out talent to go through the motions. Last year, for instance, "Avatar" made a giant splash with 20 minutes of footage that started the drumline from July to December. I thought Disney would have been wise to do something similar with "TRON Legacy" this year, rather than just show an 8-minute clip and toss around a bunch of viral. Yes, the parties at a manifested Flynn's Arcade were neat, but look at the impact James Cameron and company had without a single party or shred of viral. They had the goods and they gave them up.
Comic-Con is also an opportunity to surprise. Jon Favreau did just that with a "Cowboys & Aliens" presentation polished and produced specifically for the crowd just four weeks into production. Coming out of the convention, I'd say Favreau's film is the one I'm most anticipating at this point. You see? They got me.
Someone tried to argue my point that Universal had a bigger presence than Disney this year, but here's the crucial difference: Disney was preaching to the "TRON" choir. Universal got a ton of new eyeballs for Favreau's film and electrified a "Scott Pilgrim" base with a full-plunge effort. That's using a marketing opportunity to your advantage.
Obviously Marvel came in at the end of the day and got one of the bigger responses with its "Avengers" festivities, but as I said before, it's easy to get your talent out there for casting announcements and a quick photo op. I'll take creative publicity over the easy way out any day.
Then again, Marvel knew what it needed to do: keep the energy level high. They succeeded, no doubt about it. So maybe it's all more a matter of subjectivity than I realize. There's a reason I don't have a marketing job, so I could be talking out of my ass. All I can do is paint the picture as I see it, and this year, that's how I saw it.
Hopefully next year the picture will be prettier. I'll leave you with some images from the Con: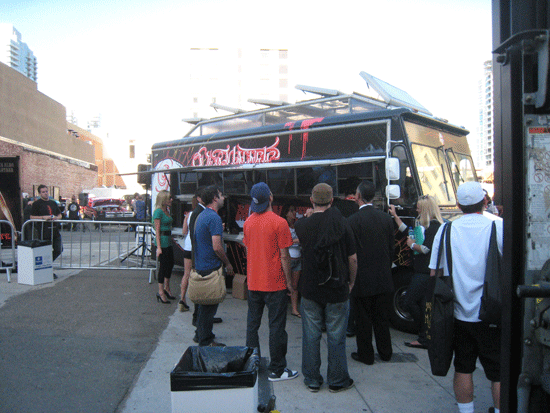 The Machete taco truck serving a massive line of hungry exploitation cinema fans.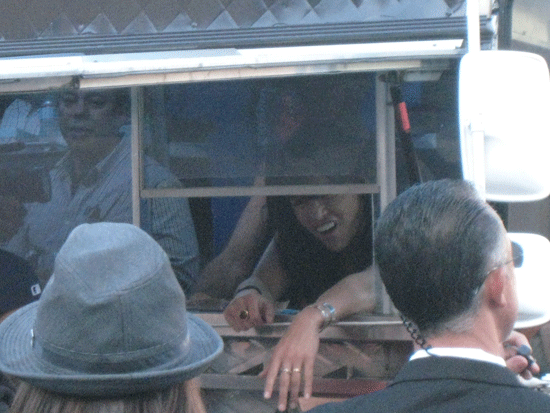 Michelle Rodriguez serving the fans from inside.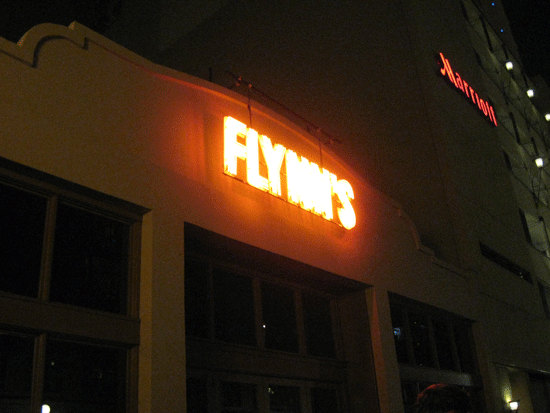 Outside of mocked-up Flynn's Arcade, part of the "TRON Legacy" presence.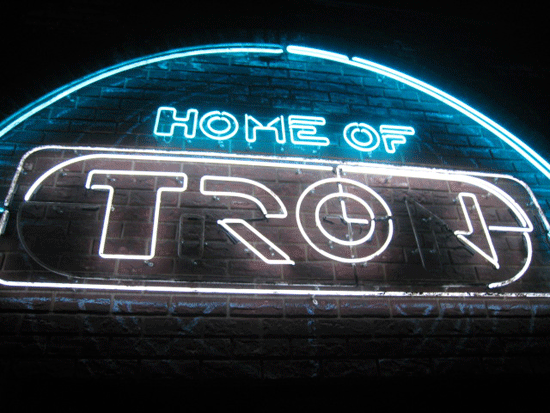 Inside the arcade, leading through a passage to a party deep within.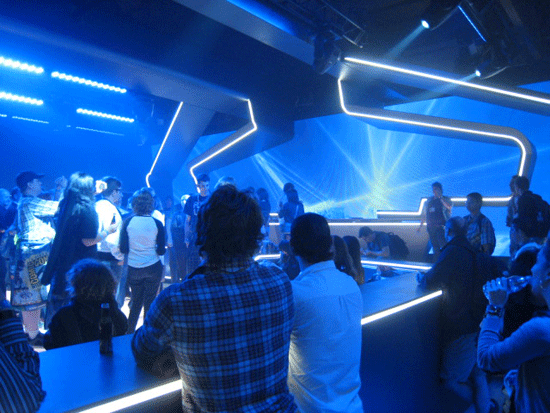 Said party.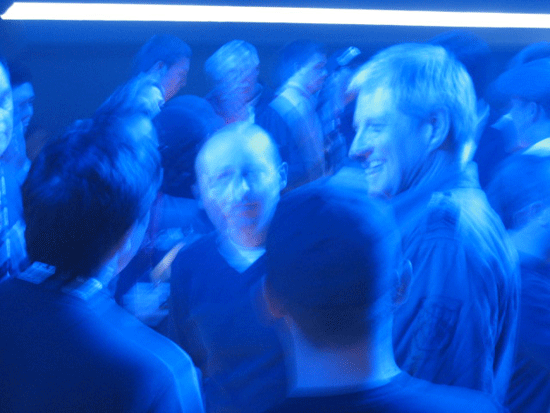 Trippy shot of "TRON Legacy" star Bruce Boxleitner chatting it up with fans inside.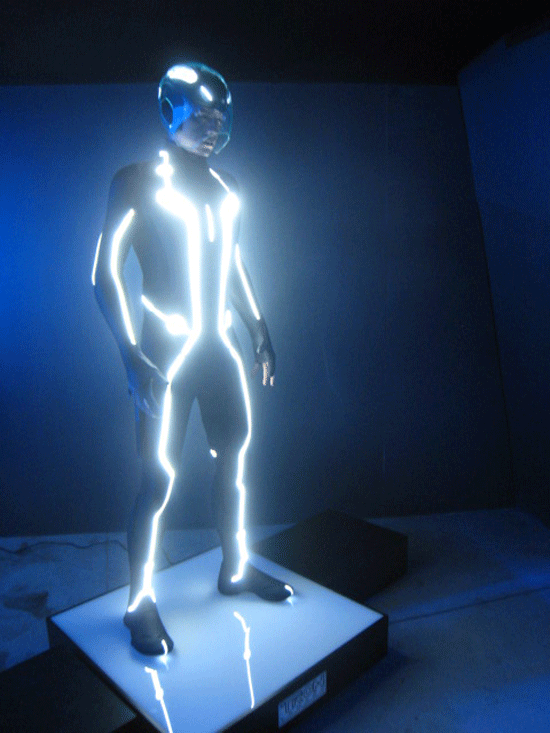 Costume design from the film on display.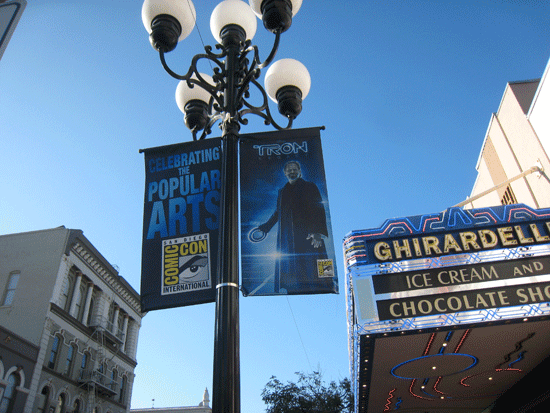 Further evidence of Disney's presence throughout downtown.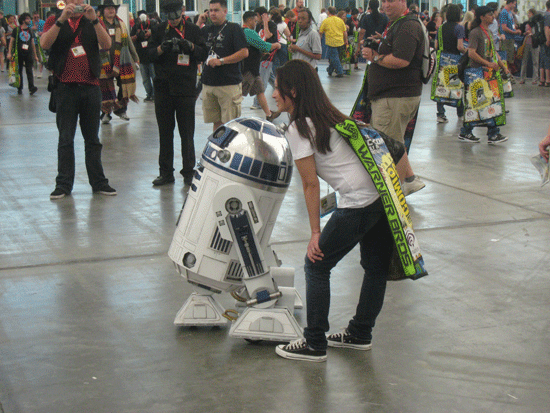 Woman posing with R2-D2 robot at the convention center.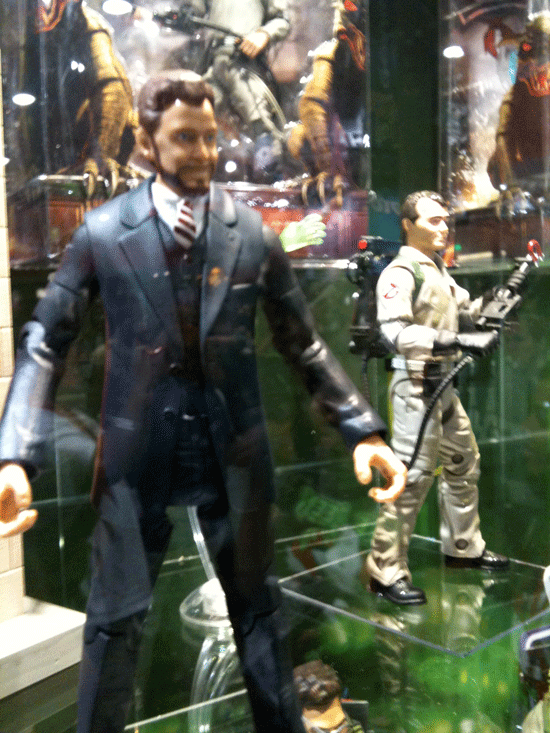 Walter Peck action figure on the convention floor. This, for me, was brilliant.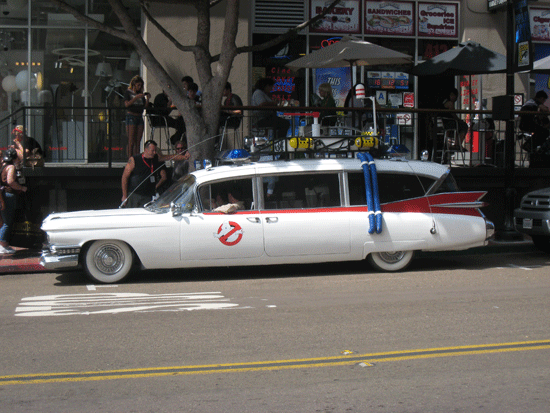 Ecto-1 parked in the middle of the Gaslamp District.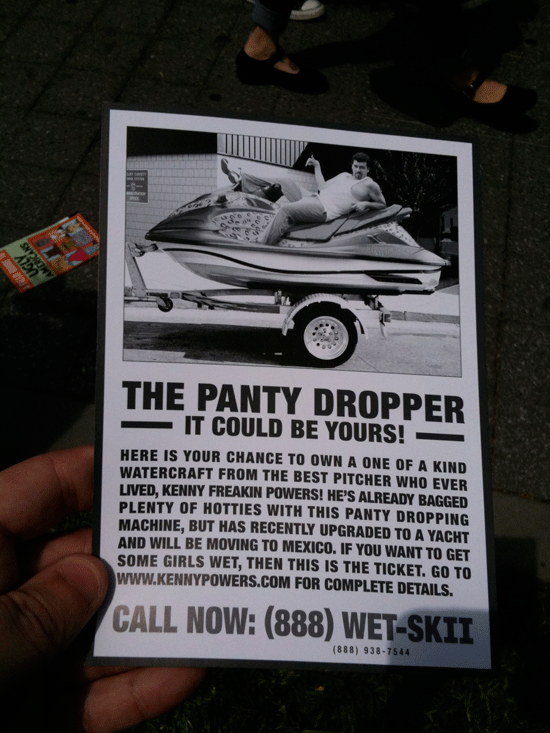 And finally, my favorite of the thousand or so flyers being handed out all weekend.
We now return to our regularly scheduled programming…