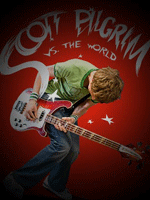 Perhaps the most ubiquitous presence at Comic-Con this year has been Universal's "Scott Pilgrim vs. the World." The film held a traditional panel Thursday evening, was screened three times to audiences including the public, was fully visible with a massive ad on the north side of the Hilton Bayfront and took over the Hilton Gaslamp with "The Scott Pilgrim Experience," a smörgåsbord of marketing mojo fit with T-shirt printing, video game test drives and autograph sessions.
I saw the film at the first screening Thursday.  Following the Hall H panel, director Edgar Wright led the march from the convention center through downtown San Diego as a hundred or so lucky fans got the chance to partake in the event at the Balboa Theatre.
Inside, Dan the Automator and Kid Koala were filling everyone's eardrums with funky beats as the crowd filed in.  It was interesting to note that many didn't even seem to realize they were witnessing a show people would pay good money to see, assuming it was just another DJ set or something.  Hardly.
Anyway, Wright hit the stage to the euphoric screams of the Scott Pilgrim faithful and introduced the film, which he said was six years in the making.  He said he and his team worked closely with the comic's creator, Bryan Lee O'Malley, which landed bonus points with the crowd, of course, and was happy to finally see it with the fans.
And boy did they lose their shit over this film.  Of all the events at Comic-Con this year, none was so deafening as this screening.  It really might have been the ideal way to view the film, given the on-cue rounds of applause and cheers to this or that plot point, little Scotts and Ramonas rocking the majestic room with eruption after eruption.
Following the screening, Canadian indie rock band Metric played an electrifying set that was more than worth staying for, but I had to jet after one song to make a "TRON Legacy" event.
As for the film itself, I find myself in a considerable minority.  I purposely waited a few days before filing this because I wanted to see how the film settled for me, and my initial reaction hasn't changed all that much.
First and foremost, it's a visceral assault, exhausting if not outright numbing.  That works for a lot of people and I respect that.  The film is alive in a way few are, so major points for being something fresh in a market inundated with retreads and conservative choices.  But while the film has a heart and sports a fetching thematic commentary on fighting for what you want, especially if it means wrestling with your own demons, I felt those threads were tidied up a bit too hastily by film's end.
Meanwhile, the film's star, Michael Cera, is something of a dead weight throughout.  Some might argue that that's part of the point, but the staleness of his portrayal really weighs the film down to a point of boredom.  I got the feeling he never really got under Scott Pilgrim's skin as an actor and just went through the motions.  And to be perfectly honest, I never felt a personality poking through, more so than a persona.
But again, I'm in a minority here.  Inevitably, the comic's fans were wholly satisfied.  And most conversations about the film were had with people sold, hook, line and sinker.  So I'm not going to rob Wright and Universal Pictures of their well-earned moment.  I'll just simply say, respectfully, it wasn't for me.
More on Universal's overall owning of the Con later today.  Oh, and here are a few shots.  The first two are Wright presenting the film and Metric melting the crowd's face off, the rest are from "The Scott Pilgrim Experience" at the Hilton Gaslamp: