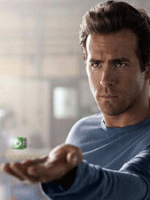 One of the most anticipated events at this year's convention was Warner Bros. Pictures' presentation of footage from Martin Campbell's upcoming "Green Lantern" adaptation.  Starring Ryan Reynolds as test-pilot-turned-intergalactic-enforcer Hal Jordan, the film is the first big screen adaptation of the superhero to date.
Comics writer and head of DC Entertainment Geoff Johns said during the panel discussion, moderated by Hero Complex's Geoff Boucher, that there was a time he thought an adaptation would never see the light of day. Working as an intern with Richard Donner over a decade ago, the project had begun to pick up some momentum. When he heard a studio exec ask if the film could be done without the ring, his heart sank and he figured it was a doomed property.
Today Johns is one of the key architects of the new DC universe on the page, having spent five years re-inventing and streamlining the world of Green Lantern as well, and for him, the film is a dream come true.
"It's awesome to see filmmakers and cast so dedicated to Green Lantern," he said, before mentioning that the film will hopefully lead the way for a new direction of DC filmed entertainment, one that certainly hopes to go head-to-head with Marvel Entertainment's recent inundation of the market.
Reynolds, also on hand, mentioned that he was drawn to the idea of a Chuck Yeager/Han Solo hybrid. "He can throw a punch, tell a joke and kiss the girl," he said. "I saw this guy who is extremely cocky and he's given this gift that is extremely humbling for him.  I thought that was an interesting arc for a superhero film."
The film has three more weeks of shooting left on location in Louisiana. Reynolds naturally commented that it's nice to be able to bring this kind of attention to the area.
Also on the panel were stars Blake Lively, Mark Strong and Peter Sarsgaard, as well as writer/producer Greg Berlanti, producer Donald DeLine and director Campbell.
As for the footage itself, it was brief and the cuts were fast and furious, but the one money shot had to be Reynolds landing a roundhouse ring-enhanced emerald punch on some poor soul in a back alley. It was a classic comic image right out of the books. Everything looked incredibly sharp, the cinematography from Dion Beebe slick and crisp, Grant Major's production design realistic despite its intricacies and extravagance. Color me excited.
After the panel Reynolds gave his trusty Green Lantern ring prop away to a lucky member of the audience, and the collective hearts of Hall H melted away when a young boy asked during the Q&A session what it was like reciting the Green Lantern oath. "It was like this," Reynolds replied, before launching into the full soliloquy to a silenced crowd that, of course, exploded when he finished.
Also part of the WB presentation was "Harry Potter and the Deathly Hallows: Part 1," a franchise that has frankly left me in the dust. Most everyone in the hall was on the edge of their seats for that particular footage, however.  Nothing to report.  Lather, rinse, repeat.
Things wrapped up with Zack Synder's "Sucker Punch," an absolute shock to the senses. The footage/trailer rocked the house with images of hot girls going toe-to-toe with dragons, robots, giant Samurai-looking things, all in the middle of World War I. Geoff Boucher said during the panel, which consisted of Snyder and the film's trio of female stars, that the action was like "liquid mayhem," and that's a fair assessment. I honestly don't know what we're dealing with here, but, well, I'm willing to take that twisted trip because it looks like nothing we've ever seen before.  Well, maybe like "Sky Captain" on crack.
Later today Overture will hit the hall with "Let Me In," but most are going to camp out in here all day in anticipation of the big marvel presentation later in the afternoon. More on that later.  Stay tuned.
[Photo: Warner Bros. Pictures]