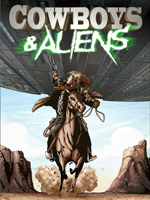 With its "Scott Pilgrim" presence already dominating the scene here at Comic-Con, Universal publicity didn't need to do much else to be top of the nerd mountain this weekend. Then they went and blew the roof off.
The studio first offered up a sizzle reel for Greg Mottola's sci-fi comedy "Paul," which went over well with its tip of the hat to the Con (early scenes show a recreated convention). The director and most of the cast were here to discuss the road trip movie with a twist, but that was just an hors d'oeuvre.
The roof-blowing was owed completely to Harrison Ford's first-ever appearance at the convention. It was a geek's wet dream as Han Solo/Indiana Jones took to the stage at Hall H in handcuffs (which we all thought was making light of an earlier incident where a stabbing occurred in the hall, but was actually a pre-planned gag, as in Favreau had to drag Ford to the convention in shackles). Ford was there to help promote Jon Favreau's "Cowboys & Aliens," which had a surprisingly robust presence during the presentation.
First and foremost, Ford's appearance was painstakingly kept secret by Universal flacks. But after Favreau hit the stage (to an awesome AC/DC remix), he made it sound like he just wanted to be on hand with the cast and didn't have anything to show given that the film has only been in production for four weeks. So to the audience for a Q&A he went.
Half-way through the session, as the director was trying to explain what the film was like, he said, "You know what, I can't explain it. You want to see something?"
The crowd was then treated to close to 10 minutes of not just footage, but polished, well-mixed footage with great effects and a decent temp score. Earlier, Favreau said he wanted to make a straight western akin to John Ford or Sergio Leone. He said he looked at films like "Predator" and "Aliens," examples of sci-fi blended with horror elements, rooting the material in a kind of reality. And that's a good way to describe what we saw.
The biggest set-piece was a full on alien spaceship attack in the middle of a mid-town showdown. It felt like "War of the Worlds" invading "Unforgiven," and it worked. Hopefully the film can do for the hybrid western what "Jonah Hex" could not, but at the same time, I can't help but recall the positive response to "Jonah Hex" footage at last year's Con, so time will tell.
Still, it's a heck of a nod from Favreau, who said that when he took on the project he knew he HAD to have something ready for the convention this year. He delivered, clearly grateful to the audience that helped start the buzz wave on his "Iron Man" franchise. And he plans to be back next year with more.