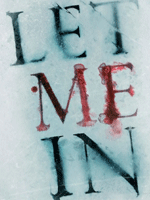 As far as Matt Reeves's "Let Me In" is concerned, I'll freely admit a sense of hesitation. Based on one of the best films of 2008, it has had an air of arbitrary remake-itis around it. But much of that started to disappear as marketing materials were unveiled throughout the last few weeks, and following a panel for the film today, I'm feeling even better about things.
Reeves was on hand, along with stars Kodi Smit-McPhee, Chloe Moretz and Richard Jenkins. He had a pair of clips with him and they went a long way toward dispelling all of that ambivalence.
First and foremost, I was rather struck by how patient the filmmaking is here. That was a key element of "Let the Right One In," this kind of lingering camerawork and moody elegance that was largely responsible for helping the film hit the sweet spot when it could have easily been another dip in the typical vampire well.
The second clip in particular left my jaw open. I'd rather not go into much detail but while it differs significantly from the same plot point in the original, it also revealed an appreciation for Tomas Alfredson's cinematic eye. We all remember the mesmerizing image that came in the first film's final moments. Well this clip showcased that same kind of unique camera placement, filling the frame with visual creativity.
I was kinda sold. It had nothing to do with the crowd response, which can admittedly steer the overall vibe quite easily in Hall H. But as a huge fan of Alfredson's work, I was just delighted to see a reverence and artistry that, frankly, wasn't expected.
Reeves mentioned during the panel discussion that he wanted this to be a sort of ode to his childhood, which is why he chose to set the film in the early 1980s. Being set in "Regan America" was key, a time when the president was making announcements of the "evil empire" and "the others" and that America was "fundamentally good."
Keeping with ideas of America, he said he wanted the film set in Los Alamos, New Mexico's high desert because of the planned community's history as a housing area for employees of the Manhattan Project.
Reeves also kept mentioning films like "Dial M for Murder" and "Rear Window" when discussing his tonal approach to the work. He said he brought details form the book into his adaptation that aren't present in the first film and made it known he fully understands any ambivalence toward the remaking of what he considers a masterpiece.
"I know a lot of people are worried and cynical," he said. "But the thing about it is, that film will always exist. And so will the novel. Hopefully after this one you'll see it as just another interpretation."
"Let Me In" hits theaters October 1.
[Photo: Overture Films]