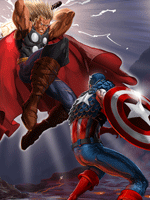 Hall H was humming by the time Marvel Entertainment honcho Kevin Feige took the stage for the highly anticipated "Captain America" and "Thor" panels this afternoon.  And for the comic book masses waiting with bated breath for any sliver of info, it was ecstasy.  For me…not so much.
Director Joe Johnston and stars Chris Evans and Hugo Weaving were on hand to talk all things Cap.  Johnston had a quick preview reel full of graphics that ended with a few shots of Evans in the test costume, which frankly looked like a Halloween get-up.  But hopefully it'll all come out in the wash.
Later there was a scene featuring Weaving (who plays villain Red Skull).  It was largely important to the audience for its revelation of the Cosmic Cube being in the film.  (Read up on that more here and here.)  Naturally, there were geeky gasps throughout the hall, but the scene itself had a nice atmosphere.  I'm cautiously optimistic for this one.
Johnston helmed "The Rocketeer" nearly two decades ago, which is actually a nice credential for justifying his involvement here if you think about it.  And he mentioned an affinity for Ed Brubaker's take on the character, which makes sense given the retro vibe of the design.  But only eight days into filming, there isn't much to report or anything to really draw from what we saw.
Next up was "Thor," with director Kenneth Branagh and stars Chris Hemsworth, Natalie Portman, Kat Dennings, Tom Hiddleston and Clark Gregg (frankly my favorite aspect of all of this so far).  An extended trailer, maybe five minutes long and in full (annoying) 3D was shown and that really got the place jumping.  That could be owed largely to a final sequence involving villain character The Destroyer.
But I have to be honest.  Everything from this film looks absolutely hokey to me.  Everything involving costumes and Asgaard, that is.  The art direction comes from a real master in Bo Welch, and Alexandra Byrne is usually no slouch in the costume department, but here there just seems to be something gaudy and fakey about the design aspects of the film.  It's not settling in for me.
But the threads of the Marvel universe are really starting to come together in this film and that's a bit exciting.  They're making it happen, and the fans are on board.  So God bless 'em.
That wasn't the end of things, of course.  With the stage empty following an encore look at the "Thor" footage, Feige had one more, hardly unanticipated, card up his sleeve.  Samuel L. Jackson took to the podium to introduce members of Nick Fury's team: Scarlett Johansson (Black Widow), Chris Hemsworth (Thor), Chris Evans (Captain America) and Robert Downey Jr. (Iron Man), who offered the final two confirmations for geeks everywhere.  That's right, Mark Ruffalo is Bruce Banner/The Incredible Hulk and Jeremy Renner is Hawkeye.  The Avengers have assembled.
As you might imagine, the place went nuts.  Director Joss Whedon hit the stage as well, offering a humble, "I'll blow it.  I'm not up to it."  We'll see in a few years.
Anyway, it's safe to say, as far as the fans are concerned, Marvel probably made the biggest splash today.  But it was an easy get, if you know what I mean.  Cart out the cast of your biggest property and you're bound to get a pop, but I still think Universal earned its stripes with a savvy presence.  More on that when I wrap up the Con tomorrow.  For now, the team: