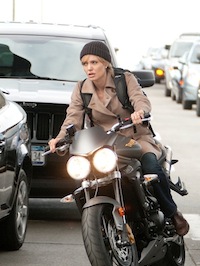 *All historical figures cited are adjusted to today's dollars.
Laziest headline ever? It's that kind of Friday folks.
Hey boys! Anything you can do, Angelina Jolie can make look sexier and she's here to prove it with "Salt." Originally a vehicle for Tom Cruise, Jolie stepped in and is literally the only woman in Hollywood who can have action scripts rewritten and re-gendered to fit her interest. She's also the only woman in Hollywood who is currently sleeping with Brad Pitt, so let me just add this up; Angelina Jolie-2, every other woman in Hollywood-0.
This clout came from solid performances for "Lara Croft: Tomb Raider," "Mr. & Mrs. Smith" and "Wanted." The last of which opened to a very strong and surprising $56.4 million back in 2008. Sure, it was based on a comic book and had other recognizable faces in it, but the marketing really didn't have much going for it other than the promise of Jolie shooting ridiculous weapons and leaning out of cars.
She's had less success when dipping into dramatic territory, with "Changeling" and "A Mighty Heart" earning her rave reviews but fizzling at the box office. Nobody wants to see those hit lips quivering like a victim. We want to see fights and just enough skin to warrant a PG-13 rating!
Director Philip Noyce is in the same boat. His last three films have been more prestigious affairs and "Catch a Fire" in particular was dismissed by audiences. You have to go back eleven years to the last time he helmed big studio fare in "The Bone Collector," also starring Jolie, and that grossed a solid $103.8 million. Nobody really cares about him anyway and this is Jolie's to make or break. I say we're looking at $38 million for the weekend and a close race for the top spot.
Leading the competition will be Chris Nolan's "Inception." Mid-week figures were pretty spectacular and indicate that word of mouth is indeed getting out there. The film passed $100 million yesterday after only 7 days and now should easily have enough in the tank to get past $200 million. I don't think the hold will be amazing, but even if it's just 40%, Warner Bros. should be pleased.
That would give it $37.7 million and you see where a photo finish might be needed.
"Despicable Me" isn't going anywhere and could gross another $22 million or more. "The Sorcerer's Apprentice" certainly won't be providing any competition as it could slip all the way to $9 million in just its second week. Next time Disney should aim higher and give us "The Sorcerer's Master" so we don't have to watch someone filing sorcery paperwork all day.
Fox has a movie called "Ramona and Beezus" coming out and I heard it was based on a book but I only remember a beloved children's story by Beverly Cleary called "Beezus and Ramona" and why would they adapt that book and reverse the names, ruining all syntax? Is someone still bitter that nobody listened when he suggested changing that mouse movie name to "Little Stuart?" Or his other adaptation idea, "The Friendly Giant Big."
I digress. This movie is for little girls, of which I am not, so I haven't heard much about it but Fox can usually be counted on to muck these things up and we're probably looking at $7 million for the weekend. Cue studio executives reminding themselves that nobody likes movies about girls, unless they are super slutty or carrying a gun.
Summer's winding down it seems and all the nerds are at Comic-Con. What are you guys seeing?
[Photo: Columbia Pictures]