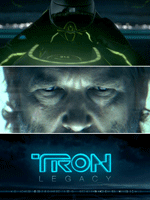 "It proves to me some things, good things, take a really long time to happen," "TRON" creator Steve Lisberger said to a packed Hall H, looking strikingly like Bad Blake next to a clean-shaven Jeff Bridges.
And that was the vibe you got from the euphoric crowd this afternoon as Disney revealed eight minutes of footage from the new film "TRON Legacy." A new trailer was also shown, which was simultaneously "unlocked" by internet users online.
Actors Bruce Boxleitner, Jeff Bridges, Michael Sheen (in his first Comic-Con appearance), Olivia Wilde and Garrett Hedlund joined Kosinski, Bailey and Lisberger on stage with moderator Patton Oswalt for a discussion on technology utilized by the project, re-visiting the material 27 years later and the underlying themes of the film.
"We need modern myths," Bridges said. "And one of the themes in our movie is the dark side of technology. We're developing it so fast we haven't developed any ethics."
Lisberger added that "there was so much idealism in the air" when the original film was conceived, lending a sense of awe to the piece. "We got to dream big." But "TRON Legacy" looks to have a much darker undercurrent and that, the panelists agreed, was central to updating Lisberger's original vision to the modern world.
For Bridges, one of the selling points on the new film was the same thing that drew him to the 1982 original: the chance to play around with cutting edge technology. And in the film, he plays his 60-year-old self as well as, through the help of performance capture technology, a 35-year-old version.
In the year following great debate over performance capture and digital performance enhancement, it was refreshing to hear the year's Best Actor Oscar winner remaining optimistic about the possibilities. "You can play yourself at any age," Bridges enthused. "It's a wonderful, exciting thing."
And I'm here to tell you, going by the footage, it's a flawless effect, the Bridges of the mid-80s up there in high-def, 3D, not a glitch in sight.
Kosinski also made a pointing of mentioning that "this is a true 3D film. No conversion here." And when those eight minutes were unveiled, you could immediately sense why that is such a crucial creative (if not fiscal) point in this brave new world of ubiquitous 3D entertainment.
Like "Avatar" last year, a truly immersive world was presented today. The 3D enhances the visuals absolutely, but organically. The soundtrack, meanwhile, features a low end that rattled throughout the hall, as well as original music from Daft Punk.
On the original score, Kosinski said the electronic duo was always a big fan of the original and expressed very early interest. He and Baily met the two over pancakes three years ago and then got to work.
"There is orchestral, electronic and granular sounds," Kosinski said of the score. "It's something exciting but new for Daft Punk fans."
It's fitting that this would be, perhaps, the most anticipated event of this year's convention. "TRON Legacy" is perhaps the first film to really owe a debt to Comic-Con. Director Joseph Kosinski and producer Sean Bailey showed up here two years ago with a test reel of footage to gauge interest in such a project. From the reaction they got in 2008, they moved forward. They brought an exclusive scene to eager viewers at last year's convention and brought things full circle this year with the new materials.
And that wasn't lost on Kosinski and company. In a truly unique move for a convention bogged down in the same-old year in and year out, the audience was asked to participate in an audio exercise that will be used in the film. It was a "follow the bouncing ball" type of thing with the audience asked to call out the words on screen when illuminated, as well as stomp during a separate section. One imagines it would be used for an arena sequence in the film, but it was enough to keep the girl in front of me chanting, "Oh my God, oh my God."
And when the screen called from silence — shockingly — it got it.
Here's the new trailer, courtesy of Yahoo! Movies:
And some shots from the panel: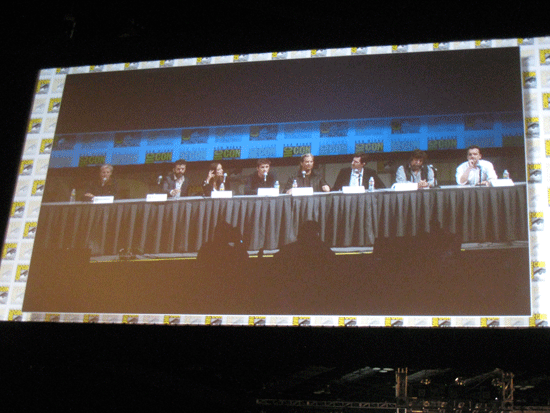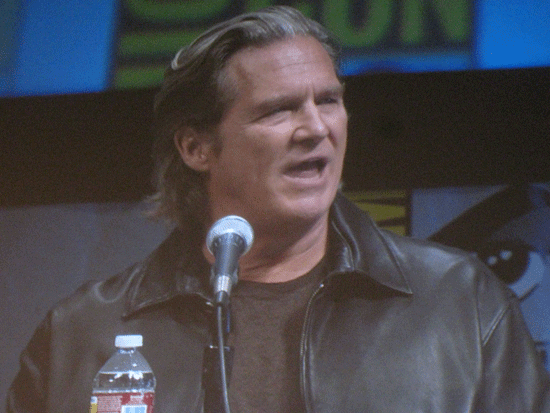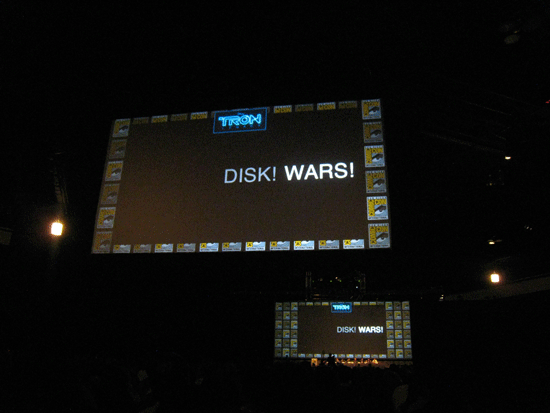 [Top photo: Throw Me In the Trash]