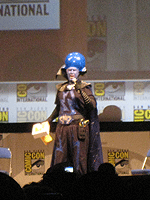 The opening Hall H panel of this year's San Diego Comic-Con belonged to DreamWorks Animation's "Megamind" from "Madagascar" director Tom McGrath.  The film, set for release November 5, is an "action comedy that takes the whole genre and turns it on its head," McGrath told the packed hall.
In the film, Will Ferrell gives his vocal talents to the title character.  Tina Fey plays a television reporter and Jonah Hill, her cameraman.  All three, along with McGrath, were on hand to preview five minutes of 3D footage from the film.
Another key cast member, Brad Pitt, could not attend.  But the crew got a nice LOL pop out of the audience by bringing a cardboard cut-out on stage.
Ferrell got into the Comic-Con spirit by donning the blue and black get-up of his character.  It's the second time he's been able to play a villain, following 2001's "Zoolander," but he said he was attracted to the idea of playing a "bad guy who becomes a good guy."  No, nothing earth-shattering, but those are the kinds of quotes the panel was offering moderator Drew McWeeny.
As for the footage itself, you get an "Incredibles" vibe, but there's obviously an inherent freshness to the material given the narrative choices.  The animation is vibrant and the 3D worked quite well.  DreamWorks Animation honcho Jeffrey Katzenberg has been full-square behind the technology since day one.
"It's a great opportunity," McGrath said of 3D technology.  "The approach, really, is to enhance the story.  'Avatar' proved you can do a lot of storytelling [with 3D] and bring people into the world.  It's a great tool, but even in the emotional scenes, the 3D has a great effect to pull you in.  Hopefully it's here to stay, because it's fun to work with."
With three major animated features in the marketplace this year, including the critically acclaimed "How to Train Your Dragon," DreamWorks is likely looking at another hit.  It may even be a serious competitor for an animated feature Oscar nomination, given the release date.
Next up today: Walt Disney's "TRON Legacy."