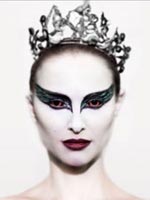 [FURTHER UPDATE: Focus has confirmed that "The American" will not, in fact, be appearing at Venice.]
[UPDATE: "Black Swan" has indeed been confirmed as the Venice opener, and will play in Competition. More soon.]
I've been saying for some time that this year's Venice Film Festival looks to be a very good vintage, capitalizing on the number of highly anticipated auteur works that weren't quite ready in time for Cannes. Even with Terrence Malick's "The Tree of Life" still a major question mark — some are even suggesting it won't surface this year — there's plenty to get quivery about besides, as is clear from this tasty Variety piece.
Nick Vivarelli's article reiterates the titles — including Sofia Coppola's "Somewhere" and Julian Schnabel's "Miral" — that have long been all-but-guaranteed to show up at Venice, but adds some tantalizing new ones. Chief among them is Darren Aronofsky's ballet psycho-thriller "Black Swan," which will premiere as the festival's opening film on September 1.
The press release breaking the news, and more Venice possibilities, after the cut.
The readiness of Aronofsky's film had been up in the air for a while, but Venice was always the most logical place for it to make its debut: the director's last two features, "The Fountain" and "The Wrestler," both premiered in competition on the Lido, the latter film taking the Golden Lion in the process. Kicking off with "Black Swan" should assure the year's fest a higher profile than last year's quiet (but still high-quality) edition, which opened with Giuseppe Tornatore's harshly received family saga "Baaria."
Certainly, after a Cannes festival that saw only Doug Liman's tepid "Fair Game" representing for the U.S. in competition, the American presence at Venice should be far more robust. Also tipped to appear are Ben Affleck's "The Town" (trailer here) and one of my most anticipated titles of the year, "Meek's Cutoff." The latter film, for many (myself included) a surprise omission from this year's Cannes slate, is a period western reuniting Michelle Williams with her "Wendy and Lucy" director Kelly Reichardt.
Meanwhile, Tom Hooper's Colin Firth starrer "The King's Speech," a film which strikes some as a potential Oscar goer, is set to premiere out of competition — which would appear to confirm a more middlebrow appeal. More exciting to me is a French contingent that includes Catherine Breillat's "Sleeping Beauty" (already confirmed to open the fest's Orrizzonti sidebar) and Francois Ozon's "Potiche," which pairs Catherine Deneuve with Gérard Depardieu, three decades after their first collaboration in Truffaut's "The Last Metro." (No mention in Vivarelli's article, however, of Guillaume Canet's "Little White Lies," starring his offscreen partner Marion Cotillard, which I thought to be Lido-bound after missing the Croisette.)
All terribly exciting — if you're going to Venice, of course. Which, I'm happy to confirm, I am. Many North American journos, of course, will be content to wait a week or two for Toronto, where most of these will surely show up too. Still, the Italians have the premieres … and the beach. Can't wait.
Press release from the festival website:
Black Swan, the highly anticipated new feature film by American filmmaker Darren Aronofsky (Golden Lion recipient in 2008 at the 65th Venice Film Festival for The Wrestler), will be the opening film – in Competition – of the 67th Venice International Film Festival.

A psychological thriller set in the world of New York City Ballet, Black Swan stars Natalie Portman as Nina, a featured dancer who finds herself locked in a web of competitive intrigue with a new rival at the company (Mila Kunis).

Black Swan takes a thrilling and at times terrifying journey through the psyche of a young ballerina whose starring role as the duplicitous swan queen turns out to be a part for which she becomes frighteningly perfect. Black Swan also stars Vincent Cassel, Barbara Hershey and Winona Ryder.

The 67th Venice International Film Festival will take place on the Lido from September 1 through 11 2010, directed by Marco Mueller and organized by la Biennale di Venezia under the chairmanship of Paolo Baratta.

Black Swan will have its world premiere screening on the evening of September 1 in the Sala Grande (Palazzo del Cinema), following the opening ceremony. The film is written by Mark Heyman and Andres Heinz and John McLaughlin, produced by Protozoa Pictures and Phoenix Pictures and presented by Fox Searchlight Pictures in association with Cross Creek Pictures.

"The cast and crew of Black Swan are both excited and humbled by the festival's invitation. It is an honour to walk the great red carpet on the Lido and we are excited to premier our film to the wonderful audiences in Venice", said Aronofsky.

"What an honour and privilege it is to be selected as the opening night film" , said Fox Searchlight Presidents Stephen Gilula and Nancy Utley. "We could not have asked for a better launch for Darren and Black Swan than the Venice International Film Festival."
[Photo: Labiennale.org]