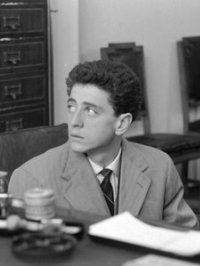 Catch up with the idea behind this series here.
I know it's a fool's game to do any kind of post that doesn't mention "Inception," but I just did so I guess it's all good. Back at the Oscars, a big film swept the proceedings for the third year in a row with "West Side Story" earning ten statues from eleven nominations. Wikipedia tells me that 1961 is the first time the televised ceremony ran over two hours long. Slippery slope.
1962 gave us the first nomination for Oscar's favorite loser, Peter O'Toole, in another epic sweep for "Lawrence of Arabia." It's hard to argue with that film's broad appeal but it also does seem like at this point, the Academy was just like, "Can't we just pick one film per year and give it all the awards?"
Luckily, there are more than enough excluded films worth mentioning from these years so get your Netflix queue's ready for these bad boys!
1961 – "Il Posto" (Ermanno Olmi)
Seventeen years after the birth of Italian Neorealism, a second wave of young filmmakers transplanted the same techniques away from the post-World War II environment and emphasized the harsh economic realities still facing the country's lower class.
Here's a little rundown of the plot. Young Domenico goes to Milan to get a job. He applies for a job, completes an aptitude test, gets the job and starts work at the job. Roll credits. As you'll see again and again in these columns, it's not the plot that's the thing. As Jeff Torrington once wrote, "Plots are for cemeteries." What Olmi is able to accomplish within that simplistic timetable is what makes the film extraordinary.
The director was only 29 when he made the semi-autobiographical film and his closeness to the material allows for beautiful details to seep in. The way the boss sips his coffee. The way Domenico sheepishly shows his credentials as he walks past the guard on his first day. Everything is an observation, both to the lead character and to the audience.
Of course, there's more going on, as Domenico strikes up a conversation and flirtation with Antonietta during the course of the day. Beautifully played by the beautiful (and I mean, beautiful!) Sandro Panseri, it's not hard to see why Olmi married her shortly after, but it is hard to see why she would never act again. Performances all around and naturalistic and nuanced, but it's up to Sandro Panseri to carry the film with his wide-eyed face.
Sometimes frustratingly introverted, he nevertheless slowly comes alive when around Antonietta and then speaks volumes with no words in the final two sequences. The film was made on a shoestring budget and some technical aspects suffer (sound mainly), but the cinematography is divine and Olmi wisely picked a piece to fit his meager means. His sophisticated camera direction (witness how much more powerful and interesting the scene where the two would-be-lovers window shop after their interview becomes with his camera always placed inside the store looking out) ensures that the cracks are sufficiently covered.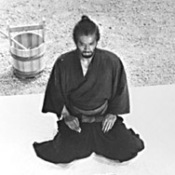 1962 – "Harakiri" (Masaki Kobayashi)
Generally speaking, I just can't get into samurai films. There's just nothing interesting about that time period to me so it doesn't really matter how well executed they are or how well their refined themes can be extrapolated into contemporary culture. Then, along came "Harakiri" and changed everything.
Perhaps my general disinterest in the period is responsible, but I had never heard of harakiri and relished the first act of this film where it is extensively explained and rationalized. If you don't know, look it up, but watch out for the google image search on that sucker. The set-up here is a drifting samurai enters the home of a feudal lord and asks permission to commit the act, only to blindside everyone with his back story and true motivations.
I don't want to spoil anything, but it's a killer premise executed with patience, suspense and even some kick-ass samurai fights by Kobayashi. Tatsuya Nakadai's performance bristles with mystery at first and sheer conviction later, rivaling Toshiro Mifune for the title of biggest badass with a bun in their hair.
Each new piece of information divulged by Nakadai and/or Kobayashi brings a new layer to the performance and storytelling. Structured somewhat similar to the flashbacks of "Rashomon," each new detour both changes our perception of the previous events and makes us infinitely more excited for the following ones.
His filming style is as accomplished, with zooms, whip pans and quick cuts serving as an interesting juxtaposition to the events and period on screen. Kobayashi has a lot to say about the individual and his strength standing up to the establishment and he was able to stand up for an entire genre I had all but dismissed in the process.
Those are my picks. What do you guys say and just remember that "Inception" came out in 2010 so is not eligible for this column.
[Photo: The Film Sufi]
[Photo: Willamette University]