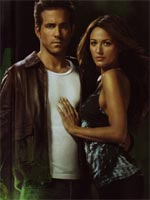 Full disclosure: I don't do comics. It's not a matter of snobbery or dislike — I quite admire the medium, in fact — but I wasn't brought up on them and can't fabricate the kind of lifelong enthusiasm they inspire in others. The pile of unread novels on my bedside table is high enough without bringing graphics into the equation.
This is a roundabout way of saying that talk of the rivalry between Marvel and DC Comics means about as much to me personally as that of the teams atop the German Bundesliga table — I understand both the game and the stakes, but my knowledge of the players themselves is elementary at best. So I found this LA Times article, in which Geoff Boucher and Ben Fritz break down the recent fortunes of Marvel and DC's respective film production divisions, rather enlightening.
With DC Entertainment's extreme polarities of success (Christopher Nolan's Batman pictures) and failure (the still-reeking "Jonah Hex") putting them on shakier economic ground than the more consistent Marvel, the studio has appointed former "Harry Potter" brand manager Diane Nelson and comic-book writer Geoff Johns to take the reins. Nelson's background is telling: parent company Warner Bros. will be relying heavily on DC Entertainment to plug the gap left when the Potter film series concludes next year.
In this regard, then, Comic-Con is a crucial showcase for DC and its new captains — and much more is riding on "Green Lantern" than I could have imagined for any film starring Ryan Reynolds in a glowing emerald suit. (Full extent of my knowledge displayed: the Comic-Con geeks would be eating my liver for breakfast by now.) The film, which will unveil footage for the San Diego hordes on Saturday, is intended to usher in a series of tentpole films built around other long-gestating DC properties like Wonder Woman and Flash — as well as a Nolan-conceived reboot of the Superman franchise. (Between that and his Bat-duty, I guess my wish for the director to return to a smaller canvas isn't being granted any time soon.)
Boucher and Fritz report that while Nelson (like me, a comic book novice) is aiming to broaden the audience for DC's film output, Johns is on hand to ensure the geeks are still appeased:
"It's no small challenge how few people have heard of these properties or understand their stories outside of fans of comic books," [Nelson] said. "Sometimes the comic-book fans who love this stuff want us to get too precious about this stuff and if we do, we'll kill it off. We need to figure out how to evolve and grow it and bring it to more people."

Johns, meanwhile, is as deeply immersed in the DC mythology as any hard-core fan. After starting his career as an assistant to Richard Donner, director of the 1978 "Superman" film, he became one of DC's top writers … That made him a perfect fit when Warner executives started looking for a creative executive to work under Nelson. "Geoff knows how to make these characters contemporary and yet stick to their core values, which is a fantastic asset for us," said [film group president Jeff] Robinov.
Sounds like a solid balance in theory, and I hope it works out for them. I'm rooting for DC — they're the ones who didn't make "Kick-Ass," right?
Read the rest of the LA Times piece here.
[Photo: /Film]