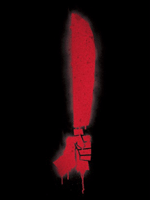 I was wondering if Robert Rodriguez's "Machete" would have much of a presence at Comic-Con this year, and it looks like it will.  And if you're in San Diego for the convention this week, you'll want to hear about this because it's open to the public.
Rodriguez and the cast of the film will be serving tacos at the "Machete" Taco Truck Thursday, July 22, from 5:00pm – 8:00pm on the corner of 5th Ave. and J St. at the 5 Star parking lot downtown.  Artwork on the truck was designed by famed graffiti artist Mr. Cartoon.
Later, at 9:00pm, footage from the film will be shown on a giant outdoor screen. Doors for that open at 8:30pm.  Looks like they're giving away posters and T-shirts, the full nine.  So be there or be square.
Follow Viva Machete on Twitter for more updates, including a flyer that'll get you a free taco.  And check out a message from Rodriguez after the jump.