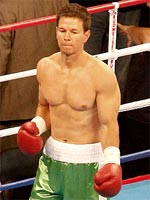 When I remarked in a post yesterday that the upcoming awards season looks a little short on the high-profile biopic contenders so beloved of Academy voters, I had a feeling I was forgetting something obvious. And so I was: "The Fighter," David O. Russell's biopic of against-the-odds boxing champ "Irish" Micky Ward, starring Mark Wahlberg in the title role.
In Friday's episode of Oscar Talk, Kris expressed his high hopes for the film, singling out Christian Bale (as Ward's half-brother and trainer Dicky Eklund) as a rumored standout. His faith is reflected in the updated predictions to your right, including potential bids in the two top races, as well as three acting categories. (Melissa Leo is currently tapped for Best Supporting Actress, but Amy Adams could be in the mix too.)
Anne Thompson responded somewhat skeptically to Kris's enthusiasm, suggesting that Russell's film (should it turn out well, of course) is in a position to take some in the industry by surprise — always a good place to be from an awards-campaign standpoint. Meanwhile, it would appear that the film's minders are opting not to build up buzz via the fall festival track: in this Collider interview, Wahlberg explains that they'll likely skip Toronto and the rest, choosing instead to "go out and go big" with a December release.
Wahlberg certainly isn't coy about hyping the film, however. In the same interview, he claims it's "the best film that [he's] been in" — fighting words from the star of "Boogie Nights" and "The Departed." Needless to say, any such quote from a star should be taken with a fistful of salt, but good things tend to happen when Wahlberg and Russell team up. "Three Kings" is grand, obviously, but for my money, "I Heart Huckabees" remains the actor's career-best work. (The director's too, for that matter.)
If they can go one better this time — and if the Best Actor category continues to want for plausible on-paper winners, as it currently does — it seems to me the run of Oscar acting champs in biopics might not be broken this season after all.
For the beleaguered Russell, who recently washed his hands of the long-troubled production of "Nailed," the choice to direct a simple, character-centered sports drama after a run of difficult projects follows a strikingly similar template to the career revival of one Darren Aronofsky; comparisons to "The Wrestler" seem inevitable, and the film will have to be something special to withstand them. Like Kris, I'm keeping a keen if guarded eye on this one.
[Photo: Collider]