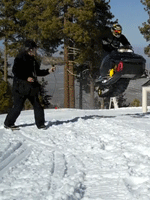 I totally meant to post this over the weekend as it's been live since Saturday. Alas, I forgot.
I've been high on the guys at SoundWorks Collection since I stumbled across their work last year. As you know, we've always been concerned with shining a proper spotlight on below-the-line efforts in filmmaking. SoundWorks Collection focuses on sound mixing and sound editing in major releases with brief aurally-focused featurettes.
Christopher Nolan's "Inception" is unquestionably a beast of immersive sound design, so I've been waiting on for this one for a while. It features interviews with Gary Rizzo, Lora Hirschberg and Richard King. Head on over to SoundWorks Collection to watch the featurette, or click through to watch an embed.  I imagine we'll be digging further into the craft aspects of the film later in the season when we launch our annual Tech Support interview series.