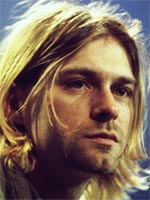 One of my favorite current film writers, Ryan Gilbey, has an excellent piece in today's Guardian on the subject of biopics — in particular, on the rise of the postmodern biopic in the face of Hollywood's increasingly tepid stabs at the form. It's a good read, but far better is the unabridged version of the article at Gilbey's own blog, which contains some fascinating nuggets cut by the Guardian subs.
Among them is this intriguing tidbit on an upcoming Kurt Cobain biopic from writer Oren Moverman. Moverman was, of course, a semi-surprise Oscar nominee earlier this year for his screenplay of "The Messenger," but more pertinently to the subject at hand, he also co-wrote Todd Haynes's oblique Bob Dylan study "I'm Not There."
Talking to Gilbey after the cut, Moverman explains that his next stab at the life of a rock icon won't be quite as avant-garde as Haynes's film (or Gus van Sant's "Last Days," for that matter), but he has no intention of ceding to the 'greatest hits' biopic structure so favored by Hollywood screenwriters.
"Biopics can get hung up on authenticity, but [I'm Not There] is constantly lying—it's clearly not a truthful representation of Dylan. His name isn't even mentioned. I can appreciate the frustration of someone who complains that they don't learn anything about Dylan from the film, but that's actually true to the experience of trying to understand Dylan; it's what Dylan himself would want."

Moverman is now writing a film about Kurt Cobain, which will address the musician's life, rather than just the suicide that inspired Gus Van Sant's Last Days. "It'll be raw and chaotic, which is what Cobain's life was like, but it's more linear than I'm Not There; it'll take you from A to Z. People know the shortcut version—he took a lot of heroin, wrote 'Smells Like Teen Spirit', became the biggest rock star in the world and killed himself. Those known things about him are to me the least interesting."
Over on the mainstream side of things, Gilbey points out the recent failure (with audiences and awards voters alike) of old-fashioned vehicles like "Amelia" and "Invictus," suggesting that less conventional interpretations of real-life figures could be the way forward. Indeed, one does wonder whether the genre's stranglehold on Oscar voting could be loosening slightly. Not since 1997 have all four acting Oscars gone to fictional characterizations, but this year's one mandatory biopic champ was Sandra Bullock, playing a civilian in a fairly low-prestige title.
Meanwhile, a glance at next year's contenders doesn't reveal many flashy impersonations of the kind voters so often favor; only unknown or low-profile subjects in titles like "127 Hours," "Conviction" and "The Social Network." Bar any awards traction for Aaron Johnson's John Lennon in "Nowhere Boy" (not gonna happen, though I wouldn't count out the film's BAFTA-nominated supporting ladies), it's tempting to suggest we might have a season free of "Wow, __________ IS __________" hyperbole. Maybe we have something to thank "Amelia" for after all.
Read the rest of Gilbey's piece here.