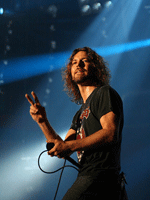 As we get closer and closer to the film awards season, I thought maybe it was a good time to round up all the potential original song contenders.  It's generally a good idea to keep track of these things, so let's see what we have so far.
One of the best bets is probably Randy Newman's "We Belong Together" from "Toy Story 3." As usual for Newman, it's not the kind of song that dives too far beneath the surface, but it's a delightful jingle that helped sum up one of the year's biggest critical and popular hits, so it should be considered formidable.
Speaking of animated films,"How to Train Your Dragon" has an original song, "Sticks & Stones," from Sigur Rós frontman Jónsi Birgisson.  It's a fast-paced bit of happiness that probably doesn't have what it takes to push through to a nomination, but it's in the field nevertheless.
Remember when Eddie Vedder was utterly shafted for the brilliant work he contributed to Sean Penn's "Into the Wild?" (Seriously, "Society" might be the best original song from a film in the last decade, but that's just me.)  Well the Pearl Jam front man is back with "Better Days" from "Eat, Pray, Love," which is full of soul and spirituality, everything the book was about.  I haven't seen the film yet so I don't know how the song is used, but again, it's another contender.  The song leaked last month, though, so you can find it on the net easily enough.
We know John Legend's "Shine" closes out Davis Guggenheim's education system doc "Waiting for 'Superman,'" and I believe Disney's "Tangled" will have an entry (or a few).  What else?
We'll sample all of the contenders separately again this year, once we're in the thick of the season.  But for now, help me out here.  Anything I'm missing?  (I'll keep adding here.)
[Photo: last.fm]