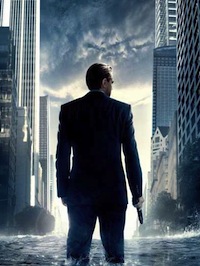 *All historical figures cited are adjusted to today's dollars.
Alright, let's talk about "Inception." People have been salivating over this thing since before it even went into production and the marketing campaign Warner Bros. put together was pretty top notch. The director was coming off the biggest film of the decade (at that time) and the cast was impressively assembled, led by one of the biggest names on the planet. Early reviews were ecstatic and the market was desperate for a live action blockbuster to live up to the hype.
With all that said, "Inception" opened at the top of the box office this weekend with $60.4 million. Is that any good? Well, it's less than "The Dark Knight" made in one day, but it's by far the biggest opening of Leonard DiCaprio's career. With no previous source material and a tricky sci-fi premise aimed at adults, Warner Bros. was always going to have an uphill battle here.
As far as summer sci-fi goes, it's a little less than what "I, Robot" debuted with in July 2004, but well ahead of the $48.8 million launch for "Minority Report," which had Cruise and Spielberg to help sell. That film had similarly positive reviews and went on to gross 3.7 times its debut with a $180.7 million finish. If "Inception" were to do the same, we'd be looking at a $223 million total.
Unfortunately, I think that may be a bridge too far for Nolan and company. A negligible drop from Friday to Saturday indicates things weren't too fanboy front-loaded, and many will go back for repeat viewings but it's important to remember that Kevin James is a huge, bankable movie star. In other words, "Inception" might have the blood of Jesus Christ seeped into the negative according to internet savvy young adults, but to most of America, it's a long, confusing movie with no villain, sidekicks or wisecracks.
"Despicable Me?" held strong with a 42% drop to $32.7 million and second place. The film has already zoomed past $118 million total and has a strong chance of passing "How to Train Your Dragon" when all is said and done. That's what a villain, sidekicks and wisecracks will get you.
Remember that "Predators" movie? That thing dropped 73% to $6.8 million in its second week. That's the fifth biggest drop ever for a film on more than 2,500 screens and at this point, the film won't even match the $57.6 million total of "Predator 2." Adrien Brody < Danny Glover < Carl Weathers.
"The Sorcerer's Apprentice" opened with a very un-Bruckheimer $17.4 million, giving it $24.5 million since opening Wednesday. The bearded one seems to be losing his magic touch as the debut for this $150 million summer fantasy couldn't even match the $21.9 million January debut of "Kangaroo Jack." Are we finally taking our seven years overdue vengeance on Bruck for giving us the movie where a kangaroo punches Jerry O'Connell?
Poor Jay Baruchel has to come to terms with the fact that he'll never be as big as Jason Segel, who will never be as big as Seth Rogen, who will never be as big as Adam Sandler.
Just outside the top 10, "The Kids Are All Right" expanded to 38 screens and grossed a cool $1.0 million. Clearly, Focus is hitting the right spot with the marketing and release strategy but conservative America is still to go and will determine if this is more "Sideways" or "A Serious Man."
This weekend, I paid my $14 to see "Inception" in the Dome at the Arclight. Unfortunately, the A/C broke so I got moved to a smaller theater, but alas. To the surprise of few I imagine, I didn't think much of the film. Promising opening, followed by 90 dreadful minutes of smug exposition and clunky character development, followed by a breathtaking 25 minutes in the first two dream levels of the heist and then mindless, non-descript action until the close. In my opinion, the aforementioned and similar "Minority Report" is superior in every way.
What did you guys see? Here are this week's top grossing films courtesy of Exhibitor Relations: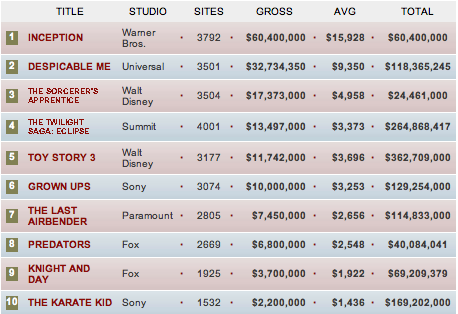 Related Posts