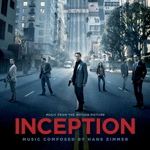 Following yesterday's interview with "Inception" composer Hans Zimmer, I thought it would be fun to run a contest and give a few of these bad boys away.  (Confession: Yes, I ended up with more than one.)
I figure we'll go with an oldie but a goodie from Sasha Stone: A haiku contest!
Cut loose with your best "Inception"-related haiku and the two best entries win a copy of the soundtrack, courtesy of Warner Bros. and Reprise Records.  Bonus considerations go to those who find a way to work thoughts or perspective on the score into their haiku.  We'll pick a winner in, oh, let's say mid-week.  Wednesday, depending on when things trail off here.
Have at it in the comments section below!