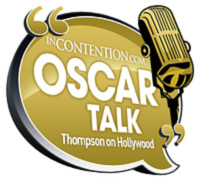 Welcome to Oscar Talk, your one-stop kudocast between yours truly and Anne Thompson of Thompson on Hollywood.
In the final of three off-season discussions, Anne and I address the following today:
• Today is "Inception" day as Christopher Nolan's latest hits theaters nationwide, so naturally, Anne and I dig into our thoughts on the film. See spoiler note below.  (Don't forget to tell us what you think of the film.)
• Unfortunately, thoughts on the film aren't the only thoughts being bandied about, as criticisms of criticisms ran rampant throughout the week. Anne and I discuss the idea of responding to other reviews in the context of one's own review.
• Comic-Con is around the corner as Hollywood descends on San Diego to sell any and everything it collectively can to a geek audience foaming at the mouth. We briefly preview what interests us from the schedule.
• A few potential awards movies have hit this summer already, which we've kind of addressed before, but we dig back in to see what could stay afloat come year's end, as well as offer one last look ahead before we get to the season.
Have a listen to the latest podcast below. As always, remember to subscribe to Oscar Talk via iTunes here. We'll be back again, and weekly, at the start of this year's awards season Friday, August 27.
(PLEASE NOTE: There are "Inception" spoilers from roughly 13:00 – 18:00.)
[display_podcast]