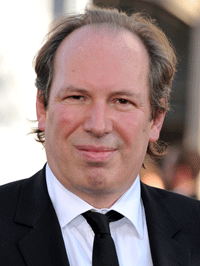 From outside on 14th Street, Hans Zimmer's Santa Monica offices reflect the typically sterile architecture of the city. Take a few steps in and you're in the expected world of a musician: bays of dubbing equipment lining the walls, screening alcoves filled to the brim with technology, the usual trappings of a media artist…nothing out of sorts yet.
However, something lurks behind a large, brown, engraved door in the back, a portal to a creative sanctum and a gargantuan expanse no one would expect to be housed within these otherwise unremarkable premises. Step inside and it feels more like a Viennese castle's quarters than a Southern California office space (not that the reporter has been to a Viennese castle). Burgundy and cherry wood dominate the scenery as technology mingles with designs of another time, memorabilia decorating every nook and cranny, a Joker statuette keeping watch on the space from afar.
Zimmer walks in, enthusiastic to discuss his contribution to Christopher Nolan's "Inception." He politely (yet somehow cheekily) asks if it's alright that he smoke a cigarette, then settles in opposite his colleague, ambient music designer Mel Wesson.
Twenty-six years into a lucrative Hollywood career, Zimmer is tapping into a new creative golden age. He's coming off his eighth Oscar nomination for his delightfully jaunty work on 2009's "Sherlock Holmes" and has been a key element of Nolan's revitalized Batman franchise since 2005. But with "Inception," his third collaboration with Nolan to date, he says he's beginning to take note of early career lessons and how they are influencing his work today.
"I'm the least revolutionary composer out there," he humbly suggests. "I evolve very, very slowly. Each score I try to find some new ideas or take some older ideas and see what happens when I push them further. What was interesting for me on this one was, some of Chris's starting off points were films by Nick Roeg, and I started with Nick Roeg. For instance, Chris said, 'I just saw 'Insignificance' the other day and there's this great section at the end,' and I couldn't help but say, 'I did that!' But while I had done that in 1980-something and put it aside and never thought about it again, suddenly I could go at it with everything I'd been through since."
The result is one of the composer's most sonically bombastic efforts to date, yet one with considerable emotional undertones that reveal a work of art that can exist quite capably free of the imagery of the film.
Flying blind
That might have been part of the point. The process of scoring "Inception" was quite unique in that, once Nolan began editing his footage, he would not let Zimmer or his team see anything further. A script read and visits to the set, along with abstract creative discussions with Nolan, were all Zimmer had to go on. He was to write the score entirely free of the movie.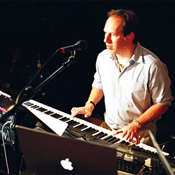 "It was completely liberating," Zimmer says. "I get so insecure, usually, about what I do and how I do it. But I felt I had such a handle on what I wanted to do. I always knew what I wanted to say."
For Zimmer, the heart of the movie was a doomed love story, and the challenge was finding a way to write something that would be overtly emotional without using the "icky Hollywood language of sweeping strings and things stolen from Rachmaninoff and Tchaikovsky." He was very much concerned with ignoring the romantic period and creating a highly charged emotional mood within a sort of minimalist environment.
From there, the composer set about considering the narrative of the film, which is quite layered (both literally and subtextually).
"Out of the gate we're telling story, and nobody realizes it until they see it a second time," he says. "What you hear over the logos is actually scoring the action that's not on screen. And Chris doesn't hide anything from you in the script. It's just the context. You're being told everything that's going to happen. The main character is actually very honest. And the same with the music. I tell you everything and anything that will happen, right from the first note. It's just that you haven't worked out the context yet. It starts resonating as you go deeper into the dream. The great thing is just the little kid in me, that I could play with ideas of different times and different layers and make a score which was a Rubik's cube."
There is also a striking balance in the score, a sense of fragility blended with ominous, nearly sinister overtones. It was something of which Zimmer was fully aware, being attracted to the contrast inherent in such ideas.
"If you frame a really fragile piano note against a huge orchestra in the right way, both of them will sound more interesting," he says.
"A world you can't quite get a grasp on."
One issue popped up early on around the casting of Marion Cotillard. Edith Piaf's iconic "Non Je Ne Regrette Rien" plays a pivotal role in the narrative and, of course, Cotillard's career took off with her Oscar-winning performance as Piaf in 2007's "La Vie en Rose." But Zimmer felt vet strongly about the track, which was already present in the script, and lobbied for its inclusion, despite the somewhat meta vibe it might send.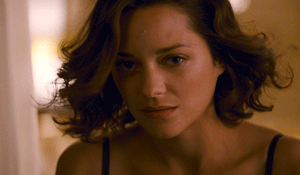 "The recording Chris and I heard at first, somebody had made a bad copy that ran slightly fast and was in mono," Zimmer recalls. "So it had this nostalgic quality, as if it were recorded in the forties in some smokey bistro with the German army marching up the Champs-Élysées. There was a danger about it and a sense of a lost world."
Zimmer found a cleaner version of the song in the Paris National Archives, but he says he was nevertheless "clinging for dear life" to the mood the earlier version had set in his mind. A French company was hired to extract the vocal so Zimmer could create a different mix of music and Piaf's voice, one that wouldn't be hampered by the sequences' time constraints.
Reminded now of the interplay of technology and nostalgia, not just in the score but in this very room, Zimmer makes note of other technological enhancements of the music of "Inception," such as the use of synthesizers.
"Synthesizers were misused for many years to go and fake up acoustic instruments," he says, "to synthesize acoustic instruments because people couldn't afford it. On this we did it very much the other way around whereby Mel would write these incredible electronic, abstract collages. We would get them written out as a score, put them in front of the orchestra and get the orchestra to now synthesize, imitate, these textures."
Partly Zimmer says it was childlike curiosity, and partly it was about "trying to create a world that you can't quite get a grasp on."
Finding Mel's niche
Eleven years ago, when Zimmer and Wesson were discussing the score of Ridley Scott's "Hannibal," Wesson brought up something he had been exploring without a proper outlet: ambient music. The interest stemmed from a secret track on the 1997 album "Urban Hymns" by "The Verve" (you'll recall the hit "Bittersweet Symphony"). Zimmer discovered it one Christmas and phoned his friend, excited about the possibilities in translating it to film music composition.
"He said, 'Just go do it,'" Wesson remembers. "'If it doesn't work, it doesn't work.'" Clearly it worked, or at the very least, it stuck.
In Zimmer's collaborative sect, ambient music design — coined eventually by the crew — became Wesson's niche. It's about creating a world for the movie in sound as opposed to notes, Wesson says, elements that create emotion, a certain time and a certain space, woven into the musical fabric of Zimmer's work.
"My role is somewhere on the outer edges of where the score ends and the sound design maybe starts," Wesson says. "But it's always to do with the score as opposed to the real world, so it's to do with the abstract more than anything that's remotely like reality."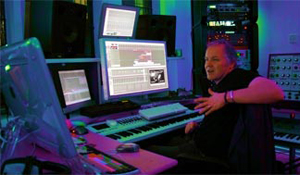 It's a process they have expanded on throughout the decade, from "Gladiator" and "Black Hawk Down" to "The Dark Knight" and "Inception," and anything in between. But Wesson says he thinks the contribution is frequently misinterpreted.
"A lot of people think it's all about making low drones or high drones or screeching noises, which is part of it," he says. "But it has to make sense with Hans's line of thought. In terms of the movie, I suppose he's the extractor. I'm part architect, I suppose. I come up with musical mazes and designs and concepts."
Applying those concepts to "Inception" was unique as, once again, Wesson, like Zimmer, did not work to picture but rather in in a creative space uninformed by Nolan's visuals.
"Initially they tend to be very long soundscapes," Wesson says of his pieces, "two to three minutes sometimes, all in quad, so they're all around you the whole time in 5.1. On this one there was a massive amount. We had 80 or 90 of these things created before we even really started."
Wesson would send the pieces to Zimmer and receive feedback. When the time came for the team to assemble the various moving parts, he would sit and pour through every cue with his palette of sounds at the ready. It's similar to a sound mixer utilizing raw elements for soundscape purposes and implementing the contributions of sound effects engineers.
"Sometimes it will appear in places where there was never any intention to have score," he says, "and sometimes it will just die a complete death because Hans has written something that doesn't require endless amounts of noise running through it. But you've got to do it in such a way that is real. There's a line in the movie that says, 'Dreams are real when you're in them.' So you can't go insane and create this ludicrous work. It has to creep into you without even knowing it's there."
Interestingly enough, Wesson's official website quips, "Music is noise."
Refining the process
Zimmer's process may be unique, he doesn't know. But it is what he and Wesson and the rest have settled on as the most creatively fulfilling pursuit.
"My job is to set the tone, write the themes, orchestrate those themes completely so it really sets the tone and nothing can move," Zimmer says. "It's going to be that sort of an architecture. But just because I write the tunes and I'm sort of the captain of the ship doesn't mean I should not acknowledge the people who come into this room and ideas that are sort of flowing around."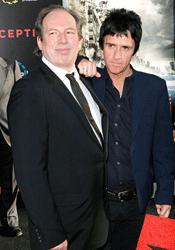 Plus, he has an audience. He can play something to his collaborators and see if it lands or not. But it's really about experimentation, he says, in order to maintain a unique contribution to film music.
"We spend an enormous amount of time making up sounds for these movies," he says. "There are so many libraries of sounds you can buy these days, but I don't really want anything we do on this movie to appear in anyone else's movie. It has to be bespoke tailoring. So I write these rather long-form pieces, and in this case, really, that's what Chris wanted. He wanted me to just write music and come up with an interesting way for it to sound. Have Mel do a lot of the abstract things and all sorts of hideous experiments with brass sections. Have Lorne (Balfe) go and take my pieces and experiment around without them in a different style musically. Have Richard King, our sound designer, and us talk all the time. We didn't do what a normal movie does. But everything we did ended up, in one way or the other, foundation for the master recording."
And that collaboration extended one step further on "Inception" as Zimmer tapped the talents of former Smiths guitarist Johnny Marr.
"The idea of incorporating a guitar in the score can be a little tricky because guitar and orchestra don't always gel," Zimmer is quoted as saying in the film's press notes. "But I kept thinking of Johnny Marr, who has influenced a whole generation of guitarists. The great thing was that as soon as Johnny played the first few notes, it was exactly how I'd imagined it…only better. And that's what you expect from a great artist."
And in this, his third at-bat with Christopher Nolan, Zimmer says he thinks the two are settling into the symbiosis of creativity.
"Chris and I just hang out together quite a bit," he says. "We'd go to the beach and just talk about ideas, not really referencing the script all that much. I think we're refining our method, which is to start thinking really early and to start coming up with ideas and inspire each other."
"Inception" is in now playing in theaters nationwide.  Learn more about Zimmer's contribution at InceptionScore.com.
(Are you a fan of Hans Zimmer's "Inception" score?  If so, check back over the weekend for a contest and a chance to win a copy of the CD release from Warner Bros. and Reprise Records!)