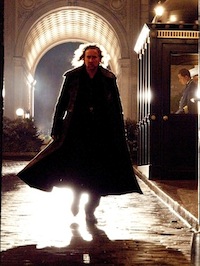 *All historical figures cited are adjusted to today's dollars.
Hey gang, it's the weekend we've all been waiting for. "The Sorcerer's Apprentice" finally opens and satisfies our bloodlust for not one, but two fantasy collaborations between the Walt Disney company and Jerry Bruckheimer per summer. Perhaps only Pixar can rival their impressive streak of quality entertainment which includes "G-Force," "Coyote Ugly" and "Bad Company." More like good company!
Nicolas Cage teams with the two of them for the seventh time and the hope is obviously to pull in "National Treasure" numbers. Actually, all six previous collaborations have earned over $125 million, so they obviously bring out the best in each other. Unfortunately, "National Treasure" looked brisk and fun while "The Sorcerer's Apprentice" looks dark and muddled.
The film already opened on Wednesday and earned $7 million in its first two days. Not looking good for the old Cagester and Bruckmeister as the weekend should only muster another $18 million or so, becoming yet another summer title reliant on international grosses to make a profit. Maybe Jerry will have to stick to TV producing where he lords over, at my last count, 361 crime or detective shows. And at least Cage is shrewd with his money. Oh wait.
Also opening, on 623 screens is "Standing Ovation." Bet you haven't heard of it, unless you are a 7- year-old Christian girl. Some genius decided to combine the pageantry of "Glee" with the dancing of "Step Up" and the tweens of everything on the Disney Channel. Rocky Mountain Pictures is doing the honors of releasing this indie all across America, because clearly there's too much artistic integrity going on to be consigned just to the art house.
Go ahead, watch the trailer. See if you don't revise those Oscar charts.
As far as predicting goes, I want to say $300,000 for the weekend but you never know with these things. Remember when "Facing the Giants" debuted with $1.6 million from 441 screens in 2006? Of course you don't, unless you distributed or made "Facing the Giants."
"Despicable Me" should have a good hold, since word of mouth seems to be strong. A 40% drop would give it another $33 million and ensure that those little yellow things will be popping up in cereal and AT&T commercials for years to come.
"Predators" is gonna drop like a rock. That's just the way it is. If it makes $10 million this weekend, Fox can be proud of their half-hearted campaign. Perhaps we should have been warned from the beginning that this would be a lazy endeavor when the pitch apparently went, "Guys, remember 'Predator?' Well, what if it was 'Predators!'" Ka-ching!
I guess that's about it. Let me just double check. Yup.
Oh, and $55 million for "Inception."
What are you guys seeing?