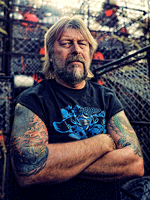 I don't know if anyone here is a "Deadliest Catch" fan. I picked the series up sometime around Season 3, I think, and was hooked. It's always been a great touchstone for my father and I, something we could kind of share our delights in when I call home, even if mom didn't fully get it.
So of coursethe last two episodes have been particularly affecting for obvious reasons. But as I caught up with the final episode to feature Captain Phil Harris, I was struck not just by the emotion of the assemblage, but the masterful storytelling on display.
Truly, I would say this season, with its various dramatic strings forming a brilliant sort of structure, has quickly evolved as one of the most precise and graceful examples of documentary filmmaking I've ever seen. Unfortunate circumstances are largely responsible, but I couldn't be more happy with the delicacy and vision the crew has brought to this series, right now, in this moment.
I was struck by this even more watching Tuesday's post-show special "After the Catch" with Mike Rowe. They brought one of the show's cameramen on, the one who was with Harris the longest — up until the end. He talked about how he would explain to Harris that a story needs a beginning, a middle and an end. Without one of them, you have nothing.
The cameraman was hesitant to film what seemed to be Harris's demise, but the cranky captain Harris, snapped his documentarian to work, scribbling on a piece of paper, "You have to have an ending."
And in the finale, as we get the news we all knew was coming at the end of the episode, Johnny Cash's final croon hits on the soundtrack — "Freedom." — and it's leveling. Just leveling.