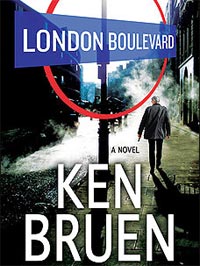 When Oscar-winning screenwriter William Monahan ("The Departed") brings Irish crime writer Ken Bruen's 2001 novel "London Boulevard" to screen in his directorial debut, he won't be adapting the text so much as returning it to its natural source.
A short, sharp, deliciously black-hearted thriller that reads not unlike a readymade screenplay in its brisk, dialogue-dominated prose, Bruen's novel makes its debt to Hollywood clear not only in its construction (brief, propulsive chapters of only a couple pages' length resemble individual cinematic scenes) and its assorted winking namechecks of bygone films and stars, but in its very conception.
The title – not a location (locals will know that there is no London Boulevard in the British capital) but a metaphor of sorts – is our first clue to what Bruen is up to: the novel is itself an adaptation, and Billy Wilder's gothic Hollywood noir "Sunset Boulevard" is the source material.
The novel's allusions to the 1950 classic aren't exactly subtle. Where Wilder's film gave us Joseph C. Gillis, a destitute L.A. screenwriter who seeks shelter in the mansion of faded movie goddess Norma Desmond to escape the repo man, "London Boulevard" crosses the Channel, jumps a half-century forward, and replaces Gillis with Mitchell, a middle-aged ex-con who dodges the ghosts of his past (and his own compulsive criminal urges) by shacking up in the plush Holland Park pad of Lillian Palmer, a washed-up theater diva plotting her triumphant West End return.
Like Gillis, Mitchell becomes the older woman's kept man, both professionally and sexually, though Bruen gives his anti-hero markedly more leverage in the power struggle – and an alternative if ambiguous outcome.
(The following paragraph comes with a mild spoiler alert, particularly for those who have not seen "Sunset Boulevard.")
It doesn't take long to get the joke, and once you do, the "Sunset" parallels come thick and fast. Norma's dour German butler Max has a direct equivalent in Lillian's Hungarian right-hand man Jordan, down to the revelation of the true nature of their true relationship, while Joe's ingenuous love interest Betty becomes sweet Irish city girl Aisling. Bruen affectionately cribs wholesale from the film, from larger plot developments such as Norma/Lillian's manipulative suicide attempt and her humiliation at the hands of a studio wishing only to borrow her car, to jokey details like the butler's daily forging of her fanmail.
If this all threatens to drift into smug, self-amusing pastiche, however, the surrounding narrative context of Mitchell's bloody criminal misadventures bears little relationship to Wilder's film (and a lot more resemblance to hard-boiled revenge thrillers like the namechecked "Point Blank"), ensuring "London Boulevard" a hybrid identity of its own. Bruen details the South London gangster racket that repeatedly ensnares Mitchell with brutal verbal wit, keen geographic specificity and violence that startles even on the page: it'll be interesting to see whether Monahan's film similarly dares to show its protagonist shooting a teenaged boy in the kneecaps.
Between its tight, tidy narrative, whip-crack dialogue and inbuilt cinematic reference scheme, then, "London Boulevard" would appear to be an entirely self-assembling adaptation prospect. Monahan, however, clearly has some other ideas, beginning with one curious stroke of casting that takes the material far from its fun "Sunset Boulevard" mirror-games – and I can't help wondering whether or not he's missed a trick.
Colin Farrell certainly isn't the problem. 45, heavyset and decidedly unlike William Holden, the Mitchell of the novel suggests more of a Ray Winstone type (Winstone, ironically enough, will appear elsewhere as Gant, Mitchell's dapper employer turned enemy). But the ample contrasts in the character of a well-read, Trisha Yearwood-loving thug should allow Farrell to work the same scuzzy charisma and bruised defiance that served him so well in Martin McDonagh's "In Bruges." (Indeed, between the films' mutual leading man and the occasional similarities between Bruen and McDonagh's respective of arch, Irish gallows humor, comparisons to McDonagh's well-liked 2008 debut seem likely.)
The supporting cast looks dandy, too: if Monahan remains consistent with the novel's characterizations, David Thewlis should ham it up righteously in Erich von Stroheim's shoes as the debonair but lethal Jordan, while Anna Friel (best known to American audiences for her turn in TV's "Pushing Daisies") will hopefully find the mournful humor in Mitchell's tragically dippy kid sister Briony. (On the page, there would appear to be less for the likes of Eddie Marsan and Ben Chaplin to do, but Bruen lets no walk-on character escape without a pithy line or two.)
My puzzlement and slight intrigue sets in when it comes to the casting of Lillian, the the film's own Gloria Swanson. While reading the book, the mind feasts on the juicy opportunity available to assorted grandes dames of British film and theater, varying in age from Kristin Scott Thomas to Judi Dench. (Given her history with Colin Farrell, Eileen Atkins would have been a wicked in-joke choice.)
In his most externally obvious departure from the novel, however, the filmmakers have shattered the "Sunset Boulevard" template by reducing the character's age by over three decades, and giving the role to Keira Knightley – not a little ironic, given the earlier film's concern with Hollywood ageism. (The film's synopsis still describes the character, renamed Charlotte, as a "reclusive actress," though her youth brings question marks that I suppose could have psychologically interesting answers.)
The de-ageing of both lead characters would appear to take the film into less transgressively romantic genre territory than either the novel or its cinematic inspiration, but without having read Monahan's screenplay, it's difficult to gauge the wisdom of this decision. One would like to think it's a grounded interpretive change rather than a mere concession to bankability, but fans of the novel may well wonder what might have been.
Putting this issue to one side, a crisp, crackling and pleasingly eccentric gangster outing should still await us. His sparky screenplay for "The Departed" suggests he could be the man for the job, but Monahan shouldn't feel the need to take too many liberties with the jazzy rhythms of Bruen's dialogue, with its often hilariously off-color asides and brainy non-sequiturs. Meanwhile, Monahan's ace team of collaborators – including veteran DP Chris Menges and "Memento" editor Dody Dorn – promise a slick, grade-A vehicle, though not, ideally, one so palatable as to obscure the playfully nasty streak running through this terrific source novel, or the shadow of Billy Wilder behind it.