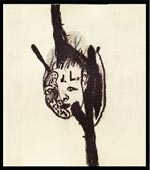 I mean, what self-respecting teenaged girl doesn't? Well, good news. A new documentary is being made about the maverick/ingenious/enigmatic/barking auteur, and its makers are funding it entirely with online fan donations. Before you reach for your small change purse, however, it should be said that they're after contributions of $50 per person.
What do you get in return, other than the warm, self-satisfied glow that comes with being a patron of the arts? Well, for one thing, you get some David Lynch art (after a fashion) yourself. The director has drawn the lovely, wholly anatomically accurate self-portrait that you see to your right — and all donors will receive a limited edition collectible print, to frame on your bedroom wall and have your dreams haunted by for years to come.
You can also receive it printed on a T-shirt or tote bag — make multiple donations and your Christmas shopping will be sorted before the summer is out.
In addition to the Lynch artwork, donors will automatically be granted "membership" of the project, receiving regular newsletter updates and exclusive footage as filming progresses. The film, "LynchTHREE," is the third in a trilogy of documentaries about Lynch, directed by someone not-at-all-pretentiously named blackANDwhite. I've never seen the first two, but they were constructed from 700 hours of footage gathered while trailing Lynch on his "INLAND EMPIRE" shoot.
If you're in a hurry to see the third — or just to have David Lynch on your wall — you best get donating. You can do so, and learn more about the project, at the official website here.