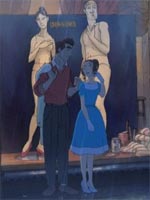 With "Inception" very nearly upon us, those of you who have been salivating over Christopher Nolan's blockbuster for months on end will need to find something else to look forward to. Call it waiting withdrawal, if you will.
Happily, the good folks of In Review Online have compiled a handy list of their 25 most anticipated films due in the latter half of 2010 (or later, depending on the US distribution situation). Thanks mostly to my festival exploits of the past year, I've already seen nine of them, most of them well worth waiting for — and the InRO editors were kind enough to invite me to write up my favorite film of the year thus far, Sylvain Chomet's "The Illusionist," for the list:
If seven years seems like a long time to have waited for a feature-length follow-up to French animator Sylvain Chomet's cheerfully batty "The Triplets of Belleville," the intricacy of the hand-drawn imagery on display in "The Illusionist" should put you in a forgiving mood. (Beauty shouldn't be rushed, as Heidi Montag could well tell you.) It's been some time since we've heard from Jacques Tati, too, though his entirely reasonable excuse is that he's been dead for 27 years.
Read the rest, and their thoughts on 24 other films, here. No prizes for guessing their (and everyone else's) #1.