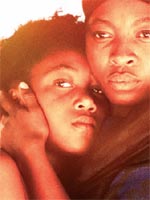 Writing from Cannes in May, I broke form to issue my only concrete Oscar prediction of the year: that Oliver Schmitz's South African AIDS-crisis drama "Life, Above All" (then competing in the Un Certain Regard strand) will be nominated for the Best Foreign Language Film Oscar next year, and could even win.
"Is it that bad?" quipped some of my colleagues after I wrote this. On the contrary: Schmitz's film, impressively shouldered by 12 year-old actress Khomotoso Manyaka, takes a measured, moving approach to subject matter that could lend itself to didacticism. It's a richer, more searching film than Darrell James Roodts's similarly themed "Yesterday," which, you might recall, earned South Africa its first Oscar nod in the category five years ago.
Human-interest themes and child-led narratives often score with voters in the foreign-language race, and between last year's surfeit of cinematic interest and this year's World Cup exposure, it's fair to say that South Africa is having a bit of a moment right now. That was my reasoning behind the prediction in May — and that was before a very valuable player entered the scene in the shape of Sony Pictures Classics.
Anne Thompson's Cannes catch-up story alerted me to news that escaped my attention in late June: that Sony has acquired North American rights to the film, though they haven't yet set a 2010 release date. Should the South African selection committee pick the film as their official Oscar submission (and they'd be out of their minds not to), I'd expect the company to throw their considerable campaigning weight behind it.
Sony, of course, ruled last year's foreign-language Oscar race, housing three of the five nominees in the category, including eventual winner "The Secret In Their Eyes." They could be in for another strong showing this year, having cannily also purchased France's Grand Prix winner "Of Gods and Men" — another high-minded issue film that could also be to Academy voters' tastes if the French select it. (Less of a certainty that South Africa picking "Life, Above All," given their annual surfeit of options.)
Anyway, this is the most hazardous of categories to make any advance calls in, but my hunch just grew stronger upon learning this. (On another note, if the film takes off, could that inspire some enterprising soul to issue Schmitz's superb 1988 debut "Mapantsula" on international DVD? Ta.)
Catch up with my "Life, Above All" review here. The UK one-sheet, courtesy of All City Media, is below.