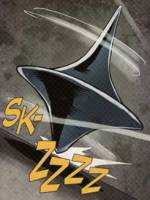 I was just wondering the other day why Warner Bros. had not taken advantage of a very real opportunity to cross-promote Christopher Nolan's "Inception" directly to the comic book crowd.  Every other blockbuster film these days seems to have a dubious tie-in book, be it "Transformers" or "G.I. Joe: The Rise of Cobra" or "Terminator Salvation," etc.  Even television frequently embraces it.
Meanwhile, "Inception" is the kind of thing that would be most interestingly supplemented by a graphic work.  This is a world of high-end caper-type imagery that can go far on the page with smart storytelling behind it.  But I figured it wouldn't happen.  We didn't even get a tie-in comic for "The Dark Knight," the first time that's happened with a Batman film.
Well, it looks like a similar plan was in the cards all along.  The studio has released the digital comic "Incetion: The Cobol Job" exclusively at LeonardoDicaprio.com, but it's also on Yahoo! Movies, so that's not really "exclusive," I guess.  It's not bad, though writer Jordan Greenberg has drastically simplified what is a bit more sophisticated in the film.  But that's probably a necessity.
Long Vo, Joe Ng and Crystal Reid contributed artwork to the piece.  You can check it out here, though a note of caution: there are lingering spoilers to the first act of "Inception," so you might want to wait until after you see the film.  I would suggest it if for no other reason than it'll probably make more sense if you know where it's ultimately going.
I would release a whole series of these.  Cobb's early years on the run, taking down black market job after black market job.