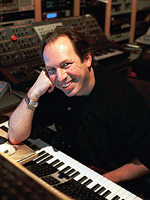 The publicity machine is oiled and clicking around Hans Zimmer lately, as well it should be.  The composer seems to be enjoying a hot streak of celebrated creativity as of late, thanks largely to his recent collaborations with director Christopher Nolan.
Nolan's much-anticipated film "Inception" will hold its Los Angeles premiere tomorrow night at Grauman's Chinese Theater in Hollywood.  Following the screening, Zimmer and guitarist Johnny Marr (who contributes guitar accompaniment on the film's score) will be performing a special concert at a private after-party across the street at the Disney-owned El Capitan Theatre.  They'll be backed by a 20-piece orchestra.
But don't fret.  The party might be private, but them press release notes that the performance will be streamed live on the internet at http://www.ustream.tv/inceptionpremiere.
Additionally, Zimmer will be at Amoeba Records in Hollywood Thursday, July 15 for an 8:00pm record signing.  The first 200 fans to purchase an "'Inception' Soundtrack fan pack" will receive a copy of the CD soundtrack, a movie poster, a guaranteed place in line to meet Zimmer at the signing and a ticket to the midnight screening of the film at the nearby ArcLight Theatre.  Packages go on sale ($35 each, which seems like a steal) at Amoeba Tuesday at 10:30am.
And if all that wasn't enough, the score also has its own site.  Like I said, oiled and clicking.
Check back tomorrow for my interview with Zimmer and ambient music designer Mel Wesson about their work on the film, which hits theaters this Friday.