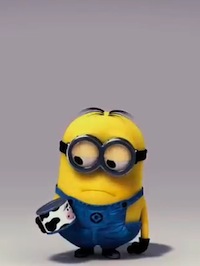 *All historical figures cited are adjusted to today's dollars.
Forget everything I said about it being ballsy marketing your movie with a bunch of unknown, potentially scene-stealing creatures. I forget that if the creatures are at all adorable, then you automatically debut with $60 million at the box office.
Seriously. What happened with "Despicable Me?" I'm not afraid to admit that three weeks ago I thought this would debut with $15 million. Instead, it's the number one movie in America with $60.1 million in the bank. That already makes it the biggest computer animated film Universal has ever put out and rivals some of the better openings for non-franchise DreamWorks pictures. It should now have no problem becoming the fourth animated film of 2010 to pass $200 million. No words.
Speaking of that threshold, "The Twilight Saga: Eclipse," raced past it with some conviction, dropping 49% to $33.4 million. It's about $7 million the running total of "New Moon" by this point and will have a hard time reaching the same peak. Still, it's more than enough to have provided more work for Jason Friedberg and Aaron Seltzer. Has that not been deemed a war crime yet?
"Predators" takes the bronze with $25.3 million. Given the low screen count, that's a solid result for Fox but legs are bound to be atrocious so they've capped their prospects at around $65 million. Still scratching my head over this one, but maybe it has something to do with spiting Topher Grace. Why else is he nowhere in the trailers? Is he the Predator in a twist?
"The Last Airbender" fell a precarious 58% but given that still means over a million and a half people went and saw it this weekend, having clearly heard how unimaginably awful it is, has to be considered a success. M. Night's latest passed the $100 million mark today with some ease and could join "Batman & Robin" as one of the worst received box office successes of all time.
Drops were much better for "Toy Story 3" and "Grown Ups." It's particularly impressive in the former's case given that animated films usually crumple when another hit one shows up. Woody and Buzz fell 27% to $22.0 million and is now the official top dog of 2010 so far. Honestly, the only contender for that throne I can see at this point is "Harry Potter and the Deathly Hallows."
"Grown Ups" fell 14% so America still overwhelmingly approves of David Spade and Rob Schneider getting pity work from Adam Sandler.
The real story comes in positions 10-15, which contains five independent or alternative titles. "Cyrus" continues a solid expansion, as does "I Am Love" and "Solitary Man," while "The Girl Who Played With Fire" matched the breakout success of its predecessor with almost a million bucks from 110 screens. Hurray for all that, even though "Solitary Man" is just a Hollywood movie reject in independent movie clothing.
"The Kids Are All Right" has all the headlines though, with $72,413 per theater on 7 screens and $505,000 total. Those are Oscar figures for sure and as long as Focus doesn't botch the expansion (cough, "Greenberg"), it's smooth sailing to the Kodak.
This may be my last week at my job since my boss said something about replacing me with an octopus. What did you guys see this weekend?
Here are this week's top grossing films courtesy of Exhibitor Relations: