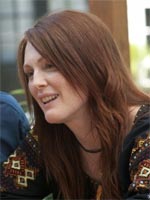 With a raft of glowing reviews — for those who place stock in such things, its Metacritic score is currently an enviable 86 — and reportedly robust box office returns, it's fair to call "The Kids Are All Right" the first all-purpose Oscar contender of 2010. So it is with a measure of indignation that some of you have emailed me to ask why we haven't reviewed it yet.
I forgive you, folks: February was a long time ago. For those of you who missed it, or weren't with us back in the winter months, my full-length review of the film from the Berlinale can be found here. And yes, I like it:
A spry, sun-bleached and often rather sexy study of what makes a family in modern America, "The Kids Are All Right" breezes by so pleasurably it's easy to forget what a daring and very necessary film it is. Gift-wrapping its smart sexual politics with kicky dialogue, bright visuals and a pleasingly messy tangle of relationships, Los Angeles-born auteur Lisa Cholodenko's fourth (and finest) feature is her most mainstream to date, but makes a virtue of those concessions.
Meanwhile, amid the generous spread of publicity afforded "The Kids Are All Right" over the past few days, one of my favorite reads has been this Film Experience interview with my personal pick of the film's impressive ensemble, Julianne Moore. Those of you who regularly read Nathaniel Rogers's site will know that, for him, an audience with Moore is something akin to a spiritual encounter, and he geeks out accordingly — but gets some nice nuggets from her in the process. Here's Moore on her collaboration with co-star Annette Bening:
It was great. It was definitely a partnership, a marriage. It was our job to illuminate that and the dynamics of that marriage. And insomuch as she [Jules] doesn't seem to be the dominant partner, you realize that she has an emotional transparency and fluidity that her wife [Nic] doesn't have.
Read the rest here. Have you seen the film yet? Share your thoughts below.