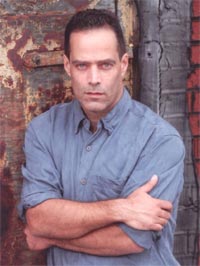 It may have a hard time distracting audiences from shinier baubles on the summer-movie tree, but there are few films currently in theaters more invigorating and essential than "Restrepo."
An unprecedentedly first-hand war documentary, shot on the fly by a pair of filmmakers embedded in a U.S. Army unit stationed in Afghanistan's perilous Korengal Valley, it emphatically earns the previously overused adjective "immersive": as Taliban bullets rattle past the camera lens, the terror and confusion of combat hits harder than it has – or could – in any narrative war film.
The film, which expands its release considerably today, leads an already impressive charge of American non-fiction cinema in 2010; it won the top prize at the Sundance Film Festival in January, and we can expect an outcry if due respect isn't paid by the Academy's documentary branch.
The achievement is all the more impressive for being the debut film of Sebastian Junger and Tim Hetherington, not that either name is an unfamiliar one. Hetherington is an acclaimed British photographer who won the coveted World Press Photo Award in 2007: interestingly, for an image from the same assignment that bore this film. Junger, meanwhile, is something of a superstar journalist, an adventurer best-known for his 1991 book "The Perfect Storm." That work may have been Hollywood-ized in 2000, but Junger's own big-screen ambitions were rather more casual.
"I'd been to Afghanistan before in 2005, embedded with a unit in Zabul," he tells me by phone from Boston, where he is in the middle of a promotional tour for the film. (Quite literally so: he apologetically interrupts our conversation halfway through to pay a taxi driver and seek directions.) "I'd obviously done war reporting before, but that was my first encounter with the U.S. military, and I found myself fascinated by the situation these guys are facing out there. I resolved to come back to write a book – one that would cover the entire soldier's experience – and shoot some video too."
So the idea for a film was there from the outset? "I had this naïve idea of making a feature-length film, but I had no idea how naïve it really was until I actually started it," he laughs. "I thought I'd just shoot what I saw and see what I ended up with; I never imagined it'd become this theatrical release that plays Sundance. If it wasn't for Tim, it certainly wouldn't have."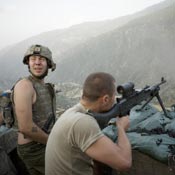 Junger and Hetherington's self-financed collaboration wasn't always a direct one: Junger explains that the footage for the film was gathered over five month-long trips to the Korengal Valley, with Hetherington boarding the project on the second trip. (Both men were working on assignment for Vanity Fair.) From there on out, the pair worked alternately together and apart on the film, returning to the States when necessary to meet other work and family obligations – and to let critical injuries heal. Hetherington broke his leg on the assignment; Junger got away with a torn Achilles tendon for his pains, but shrugs off the setback.
"The idea of the film was to reflect what these soldiers go through on an everyday basis, and we had to go through the same," he says. "When you're facing that kind of gunfire, facing those fatalities, you don't think of yourself that way. You think of the group, and there's a kind of strength in knowing that you're facing this incredible danger together. There's a very strong bond there: what happens to you happens to all of them, and vice versa."
All the same, Junger was taken aback by the scale of the battle in Afghanistan, and saw the film as a vital way to communicate that to a similarly oblivious public. "I think for many Americans, when the Bush administration moved on to Iraq, they kind of moved along with it. I certain didn't realize the combat, the on-foot fighting, out there was still so intense. Our unit faced 500 firefights during their 15-month deployment. That's not a typical experience. It's shocking."
As viscerally as "Restrepo" depicts both the traumatic fallout of said combat, however, the film manages to maintain a neutral stance on the war itself – largely by focusing on the in-the-moment experience of the soldiers themselves, for whom day-to-day survival is a more pressing concern than political ideology. In carving a narrative from the 150-hour mass of footage they had at the end of the assignment, Junger and Hetherington were keen to balance harrowing battle scenes with gentler scenes of soldiers goofing off and staving off boredom in their downtime, revealing a gentler side to their camaraderie.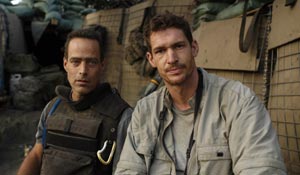 "I didn't think it would be interesting to make a pro-war or anti-war documentary," Junger says. "We've heard those arguments on either side, and there are better places for them. What we've seen far less of are portrayals of what it's like to be a soldier in combat, and that's what we were in the best position to do. We specifically excluded generals and officials from the film so the focus could be squarely on the troops."
Further to that goal, and perhaps unexpectedly given Junger's own level of celebrity, the directors were determined that their own presence in the film be as minimal as possible: neither is seen or heard throughout the film, with only their cameras indicating their perspective.
"There's an unfortunate trend in TV combat reporting to make the reporter the focus of the story, and we both wanted to avoid that. As soon as you start imposing yourself on the story, it's not about the soldiers anymore. Whatever your political views, whether you believe in the war they are fighting or not, these guys are doing their job, serving their country as best they can. This film is about honoring that."