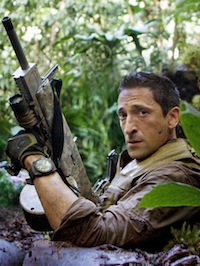 *All historical figures cited are adjusted to today's dollars.
Summer keeps puttering along and based on the reaction to Kris's multiple posts on the subject, we're all just biding our time until "Inception" comes out. I knew people wanted to see it, but I can't remember the last time people were refreshing their browsers to see a couple of reviews.
Nolan's latest is still a week away though, and we have other business to cover. Mainly, some weird cartoon and the re-imagining of an 80's action classic. Weeks ago I had this pegged as an easy weekend for "Predators" to win, but Fox has lowballed the screen count and skimped on the marketing for what should have been a no-brainer. So, let's start with "Despicable Me."
Universal has released a grand total of two computer animated films before this week. The first was the $14.4 million grossing Veggie Tales movie, "The Pirates Who Don't Do Anything", which I didn't see because I think Christian vegetables are weird, but still think it's one of the best titles of all time. Their second release was the $56.3 million wonder, "The Tale of Despereaux."
Not exactly known for this particular medium, they have nevertheless gone for broke promoting "Despicable Me" and should see it pay off. I only saw the first, god awful, offensive trailer so I have no idea what the movie is about or what those little alien guys are but I've seen them EVERYWHERE. If I was five years old, I would already have demanded three happy meals to collect their set.
It's a bit ballsy marketing an unknown property on minor characters before we get a chance to confirm them as scene-stealers, but that's Universal's approach. The presence of Steve Carell and villain-as-hero approach will coax a few teenagers and adults to check out the film so we could see an opening around $32 million.
"Predators" should have been this summer's "Freddy vs. Jason" ($48.0 million opening) but Fox has only put it on 2,669 screens where even a really solid $11,000 per theater average would net it $29 million. The perception of it being a big film is sort of deflated and now that number doesn't even seem plausible. Something along the lines of $25 million would be good considering, but with decent reviews floating in, I can't figure out why this one was slept on by Fox.
You got good reviews for a movie about Predators for God's sake! Put it in every theater available! Do it! Run! Get to the choppah!
But enough foreplay- I know you're all anxious to know what's going to happen with "The Twilight Saga: Eclipse." A subdued $64.8 million weekend was the result of major front-loading from the Wednesday debut and means the second weekend drop doesn't have to be a nightmare. It'll still probably fall around 55% since these kids only have so much allowance money and that would probably put it behind "Despicable Me" for the top spot.
"The Last Airbender" somehow did really well and I'd like to assume that word of mouth is toxic but that hasn't been the case with the weekday numbers. This thing could pull another $20 million for the weekend and pass $100 million in the process. That's $10 million per positive review on Rotten Tomatoes.
"Toy Story 3" could feasibly take a hit from "Despicable Me" but should still have enough in the tank for another $15 million+ weekend which could be just enough to pass "Alice in Wonderland" as the top grossing film of 2010 so far. Your move Nolan.
Another mild expansion should keep "Cyrus" in the top 10 conversation while huge arthouse numbers for "The Kids Are All Right" should also be expected.
What are you guys seeing? World Cup Final takes all precedence with me but I'm still trying to get out there for "Knight and Day."
What are you guys seeing this weekend?