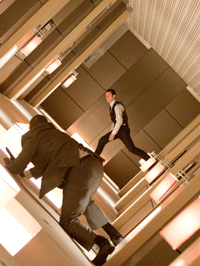 Here we go again.  We just said goodbye to the 2009 film awards season four months ago, yet here we are, halfway through 2010 and ready to kick the tires on Tech Support, a unique feature here at In Contention.
Tech Support, for those unaware, seeks to highlight below-the-line talent on films.  We offer space to recognize the film music and sound design that help set atmospheres, the costume and production design that helps manifest a new world on screen, the film editing that makes the machinery flow, the makeup that can build a character from the surface out, the visual effects that continue to wow us and the cinematography that truly captures a "motion picture."
Films would be impoverished without the contributions of those tasked with the above duties, to say the least. While many of them like being out of the spotlight, it nevertheless seems tremendously important to acknowledge their work, and so we're happy to gallop into our fifth year of Tech Support.
Over the next seven months, we will be taking a look at all of these categories, which are often forgotten in the mainstream press. We will take two in-depth looks at nine fields: Best Art Direction, Best Cinematography, Best Costume Design, Best Film Editing, Best Makeup, Best Music (Original Score), Best Sound Editing, Best Sound Mixing and Best Visual Effects.  Best Original Song, largely due to difficulties in amassing a list of contenders early on, will only be reviewed once, later in the season. After this, we hope to again feature many of the contenders with interview pieces, allowing you to read about the personal stories involved in creating films from below the line.
Today, however, I would like to put out some musings on the general nature of the categories and what to expect as we move forward.
Despite not being as well-covered as the more star-studded fields, an analysis of trends in the tech arenas reveals that certain types of films consistently do well. Period films, of course, immediately jump to mind. Categories such as Best Art Direction and Best Costume Design are frequently led by period pieces, with Best Cinematography and Best Makeup not far behind.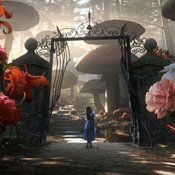 Tom Hooper's "The King's Speech" could be something to watch in that respect this year. Terrence Malick's "The Tree of Life" and Peter Weir's "The Way Back" have similar advantages, in addition to tremendously respected auteurs at the helm.
Fantasy titles and blockbusters are other frequent staples of the crafts categories.  They tend to do extremely well in post-production fields like Best Film Editing, Best Sound Editing, Best Sound Mixing and Best Visual Effects.  Of course, they would, given how much films of that sort are created at the editing bay.
This year I would look to films such as Tim Burton's "Alice in Wonderland," Joseph Kosinski's "TRON Legacy" and, most interestingly, Christopher Nolan's "Inception" (whose "The Dark Knight" managed a whopping seven crafts category nominations two years ago). In fact, I could see "Inception" being a sweeper across the tech board.
Despite these trends, films that are in the Best Picture race also, naturally, tend to do well in the crafts categories.  While this is especially true in the category of Best Film Editing (which sometimes has a 5/5 matchup with Best Picture), we can also see the trend elsewhere. So whatever films do well overall will have a leg-up in the techs.
That said, crafts categories are also where fine films that are otherwise shut out can find a nomination. Titles such as "The New World," "Bright Star," "Once" and "The Illusionist" all jump to mind from recent years. It would be virtually impossible to predict what will join these titles this year, but I certainly expect one or a few to emerge.
On the other hand, the crafts categories also consistently surprise by making an unlikely movie an Oscar nominee. "Poseidon," "Click" and "Norbit" exemplify this.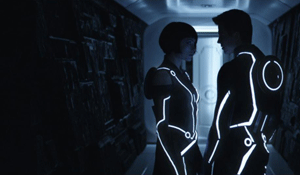 But it takes more than the right type of film to do well in the crafts categories – it helps to have a veteran craftsperson behind the title. This is why I would look to artists such as composer Alexandre Desplat ("The Tree of Life"), costume designers Colleen Atwood ("Alice in Wonderland") and Jenny Beavan ("The King's Speech") and cinematographer Roger Deakins ("True Grit"), among many others.
It is also inevitable, however, that multiple newcomers will earn their first nominations this year. Veteran production designer Guy Dyas seems like he may finally break the final five for "Inception," for example, while long-time Coen brothers collaborator Mary Zophres will also have a good chance for "True Grit." However, there will also undoubtedly be names that will make a big break on the strength of a first great opportunity.
And, of course, there will be many films that will emerge in the Fall (perhaps at the Toronto International Film Festival) that are not visible from this vantage point. Recent multiple victories for films such as "Pan's Labyrinth" and "Slumdog Millionaire" were not expected – at least by me – from this far out.
This will mark my fifth year at Tech Support and I'm happy to say I've relocated to Toronto. This will put me back "in the loop" of a major movie-going center once again. It'll a pleasure to be back and should be a great year.  Hope you enjoy it.