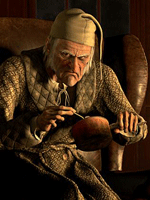 A few weeks ago the Academy's visual effects committee was set to vote on expanding the Best Visual Effects category to five nominees. Today, the rule has officially gone into the books, according to a press release. The rules governing animated feature eligibility have also been altered to make room for films that run at least 40 minutes, rather than 70 minutes, which could allow space for some obscure entries.
The release, in part:
The governors of the Academy of Motion Picture Arts and Sciences finalized the rules for the 83rd Academy Awards at its most recent meeting (June 22). The most significant change is in the Visual Effects category, which will now feature five nominees rather than three…

In the Animated Feature Film category, the rule governing running time for a motion picture to qualify was changed from at least 70 minutes to greater than 40 minutes, which is consistent with the running time requirements for feature films in all other categories. The running time for a motion picture to qualify as an animated, live action or documentary short film has been and continues to be a maximum of 40 minutes. The previous 70-minute threshold for an animated feature had left a gap for films that ran between 40 and 70 minutes, effectively preventing them from being able to qualify as either features or shorts.
Also, regarding motion capture, new language was put in place to indicate, clearly, that the technique will not be considered animation.
To wit:
An animated feature film is defined as a motion picture with a running time of greater than 40 minutes, in which movement and characters' performances are created using a frame-by-frame technique. Motion capture by itself is not an animation technique. In addition, a significant number of the major characters must be animated, and animation must figure in no less than 75 percent of the picture's running time."
And there you have it. Thoughts?
(Serendipitous day for this, by the way.  Gerard's first installment of Tech Support hits later this afternoon.)