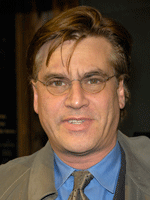 Steep, STEEP praise for David Fincher and Aaron Sorkin, director and writer of the upcoming "The Social Network." The praise comes from New York Film Festival director Richard Pena in announcing the film as the opener of this year's fest.
From Thompson on Hollywood:
[The film] powerfully captures the spirit of its time…David Fincher and Aaron Sorkin are a director/writer team, like Lumet and Chayefsky before them, that make this movie not only of the moment, but reflective of larger cultural issues as well, and confirm their position at forefront of contemporary cinema.
Now, I'm not saying Fincher and Sorkin aren't worthy of that.  I haven't seen "The Social Network," after all.  But I sure wouldn't want to be in their shoes having to rise to the level of that compliment.  But then again, I consider "Network" to be the best screenplay ever written.  Hey, how about that?  "The Social NETWORK."
Anyway, the new trailer, also from Thompson, after the jump.