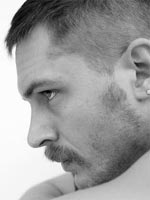 In Kris's thorough rundown of the collected performances in "Inception," I was both pleased and unsurprised to see rising British star Tom Hardy come in for praise. From the outset, his is the name I've been most intrigued by in the film's formidable ensemble. Hardy has been doing stellar, even stunning, work on stage, TV and on the Britfilm scene — culminating in a British Independent Film Award for "Bronson" last year that should rightfully have been the start of a longer awards trail.
But "Inception" — a minor role in 2001's "Black Hawk Down" notwithstanding — really marks the actor's arrival in mainstream Hollywood, and he's obviously made it an auspicious one. Call it groundwork for his bid for superstardom in George Miller's revival of the "Mad Max" franchise: he's an inspired choice to fill Mel Gibson's shoes, so here's hoping the rest of the reboot is similarly adventurous.
It'd be exciting to see Hardy become a star, and not merely because he's a fine actor. His sullen model's features and inked-up boxer's physique don't quite fit Hollywood's leading-man mold; nor does his messy (and gladly disclosed) backstory of early alcoholism and addiction.
Best of all, he's a genuinely bonkers, if eloquent, interviewee, something we're getting to see as more outlets pick up the "next big thing" meme. He's neatly showcased on the Vanities page in this month's Vanity Fair, which doesn't give him that much room to flex, but this lengthy Guardian profile is a terrific read. In it, Hardy sidesteps standard publicist-fed soundbites in favor of hilariously eccentric digressions — like this one, on his "Inception" experience:
In many ways I felt the work was done around me. I just drank lots of tea. I'd ask if there was anything I could do and they'd say: 'Not really.' So there was lots of tea for Tommy. Then they'd call me over and say: 'Can you jump off this?' I'd say: 'Absolutely!', then I'd just loiter in the corner looking fab. As is my wont. I like to flatter myself into believing that the character I played was actually Chris Nolan. I felt he was key to Eames and I latched on to him and his mannerisms. I think Leonardo DiCaprio looks like Chris and Chris looks like Leo – not to upset anyone. I think they're related, actually. In fact, you start to think: are all of these people in the film actually Chris?
He also drops in a "Man Bites Dog" reference, and terms his performance in the film "my nod to the linen-suited Havana brigade, a faded luvvie who still has a really good fist fight" — not the kind of talk you'd hear from any of the "Twilight" kids, and in that last phrase, seemingly a pretty apt description of the actor himself. Roll on "Mad Max: Fury Road."