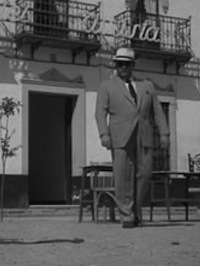 Catch up with the idea behind this series here.
The Academy was knee-deep in blacklisting around 1957 and Best Adapted Screenplay was given to novelist Pierre Boulle for "The Bridge on the River Kwai," despite him not writing the film or being able to speak English. The three hour epic dominated the proceedings and Lean's masterpiece and subsequent work would help lay the groundwork for the genre we now know as "Oscar bait." Ridiculously, "Sweet Smell of Success," "Paths of Glory," and "A Face in the Crowd" all received no love and could easily be featured in this column.
1958 saw "Gigi" break records with nine Oscar wins, while the telecast ended twenty minutes early, leaving Jerry Lewis having to try and improvise for that amount of time on live television. Can you imagine Chris Rock having to do that today? I'd watch that in a heartbeat.
Film industries from all over the world were blossoming and titles from this era are more accessible to us now so my choices have become harder and harder to make. If it comes down to it, I'll err on the side of obscure because really, you all should know that "Touch of Evil" is required viewing without me saying so.
1957 – "Across the Bridge" (Ken Annakin)
Speaking of obscure, Ken Annakin's tale of a high class criminal on the run was only recently made available on a low-rent DVD and has only amassed 191 votes from users on IMDb. One of those is a 9 from me, after I saw a print in my "Forgotten Films to Remember" class in college. One of the lucky perks of my alma mater having the second largest private collection of film prints in the United States. The one reason that the film deserves to be seen more than any other is the towering performance by Rod Steiger.
One of the most underrated and brilliant actors to ever grace the screen, Steiger plays a German business man on a train ride to Mexico in order to escape extradition for embezzling millions of dollars. Unfortunately, his crime becomes front page news during the journey and he finds a hapless Mexican man on the train with similar features to drug and switch passports with. Where the film goes from there would be a shame to spoil, but needless to say, Steiger's ruthless character learns a thing or two about a thing or two.
Amazingly, the film uses a relationship Steiger develops for his new identity's dog to show his emerging humanity and if ever there was a device tailor-made for mawkish execution, it's that. Annakin somehow finds the right balance and when the character ultimately makes his final choice, it's a gut-wrenching decision that feels 100% earned. Spielberg should take note.
The screenplay is based on a short story by Graham Greene and is excellently adapted by Guy Elmes and Denis Freeman. Not just in the way the themes are subtly addressed but in the sharp dialogue and multiple dimensions of the characters. Steiger's situation and his behavior makes it increasingly harder to despise him and different viewers may well leave the film with different final judgments. I found myself coming around early simply because until Daniel Day-Lewis in "There Will Be Blood," I hadn't seen a better male performance.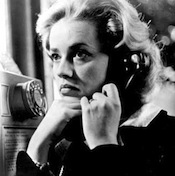 1958 – "Elevator to the Gallows" (Louis Malle)
Louis Malle turned 25 during the shooting of this film, his first, and saw it win him the most coveted prize in French film and international fame. Rightly so, as his deconstruction of the suspense genre boasts an array of innovations including a dynamite original score by Miles Davis, purportedly recorded in one improvised take.
The plot concerns a woman having an affair with a young man, whom she plots to have kill her husband at his office. The film begins with the successful execution of this plot, only for the man to forget a key piece of evidence and find himself trapped in an elevator after tracking back to get it. With him out of the picture (almost literally), Malle focuses on Jeanne Moreau's nervous evening in the dark about her co-conspirator's whereabouts and a young couple who have stolen his car and taken it for a fateful joyride.
Moreau was already a big star in France, and Malle insisted on filming her on location, walking down dark streets with no make-up, looking distraught. No big deal nowadays where de-glamming is just one of the tools in every actress's Win-an-Oscar-kit, but borderline scandalous at the time. The result was a performance of naked emotion and power, with none of it coming from dialogue. The film even opens on a stunning close-up of her face, first with only her closed, teary eyes lit amongst shadows.
Speaking of shadows, cinematographer Henri Decaë excels here with a hybrid style of photography that incorporated all the standard elements of noir into a New Wave, naturalistic aesthetic that he would all but define a few years later with "The 400 Blows." His work, accompanied by Miles's bop, elevates the film to an ethereal beauty at times, particularly when Malle takes a break from the unfolding narrative to build up atmosphere and tension.
Amazingly, Malle would make another masterpiece this same year, "The Lovers," also starring Moreau and it's well worth the time to invest in a double feature.
Those are my choices. Have your say in the comments.