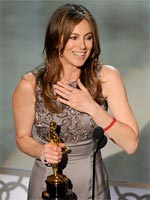 Well, this is a pretty nifty ascent for a director whose seven previous features received not a sniff of an Oscar nod between them. Four months after becoming the first female Best Director winner in Oscar history, Kathryn Bigelow has been named one of three first-time electees to the Academy of Motion Picture Arts and Sciences' Board of Governors.
Joining Bigelow are two other previous Oscar champs: documentarian Michael Moore (I guess AMPAS brass don't hold a grudge over that acceptance speech) and one of the greatest editors in the history of the medium, Anne V. Coates ("Lawrence of Arabia," "Out of Sight"). Congratulations all round.
To give you an idea of the exclusivity of the honor, AMPAS has only 43 Governors in total — three for each of their 15 branches (which the exception of Makeup, which has a single representative). Bigelow therefore joins Martha Coolidge and Edward Zwick in leading the Directors branch. Interesting that this long male-skewing branch should now have two female Governors.
For the Actors branch, Ed Begley Jr. is one of three Governors re-elected after some time away; he joins the incumbent pair of Tom Hanks and Annette Bening. Meanwhile, nine other names were re-elected; more details, if you're interested, in the following press release:
Beverly Hills, CA – A trio of Oscar® recipients – director Kathryn Bigelow, film editor Anne Coates and documentarian Michael Moore – make up the year's first-time electees to the Academy of Motion Picture Arts and Sciences' Board of Governors. Coates received her award for the editing of "Lawrence of Arabia," Moore won in the Documentary Feature category for "Bowling from Columbine," and Bigelow received Oscars® this year in the Directing category and as one of the producers of "The Hurt Locker." In addition, nine incumbents were reelected and three other filmmakers will return to the Board after a time away.

The reelected governors are Curt Behlmer, Sound Branch; Rosemary Brandenburg, Art Directors; Richard Edlund, Visual Effects; Leonard Engelman, Makeup Artists and Hairstylists; Charles Fox, Music; Jim Gianopulos, Executives; Hawk Koch, Producers; Marvin Levy, Public Relations; and Frank Pierson, Writers.

Returning to the board after a hiatus are John Bailey, Cinematographers; Ed Begley, Jr., Actors; and Jon Bloom, Short Films and Feature Animation. Bailey previously served on the board from 1996 to 2002; Begley and Bloom both were governors from 2000 to 2009.

Fourteen of the Academy's 15 branches are represented by three governors, who may serve up to three consecutive three-year terms. Terms are staggered so that each branch elects or reelects one governor each year. The Makeup Artists and Hairstylists Branch is represented by a single governor.

Governors who were not up for reelection and who continue on the Board are Annette Bening and Tom Hanks, Actors Branch; Jim Bissell and Jeffrey Kurland, Art Directors; Caleb Deschanel and Owen Roizman, Cinematographers; Martha Coolidge and Edward Zwick, Directors; Rob Epstein and Lynne Littman, Documentary; Robert Rehme and Tom Sherak, Executives; Donn Cambern and Mark Goldblatt, Film Editors; Bruce Broughton and Arthur Hamilton, Music; Mark Johnson and Kathleen Kennedy, Producers; Robert G. Friedman and Sid Ganis, Public Relations; Bill Kroyer and John Lasseter, Short Films and Feature Animation; Don Hall and Kevin O'Connell, Sound; Craig Barron and Bill Taylor, Visual Effects; and James L. Brooks and Phil Robinson, Writers.