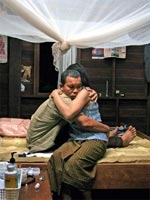 It's unusual for a Palme d'Or winner to wait this long after Cannes to find to secure a North American distributor — but then, Apichatpong Weerasethakul's death-dreams-and-monkey-ghosts fantasy "Uncle Boonmee Who Can Recall His Past Lives" is a pretty unusual Palme d'Or winner.
You'll get why it's such a tough sell when you see it, but that won't be until spring 2011 for U.S. audiences. It has just been announced that boutique distribution company Strand Releasing — who previously handled Weerasethakul's features "Tropical Malady," "Syndromes and a Century" and "Blissfully Yours" — have once again come to the rescue, and will open the film in the quiet half of next year.
Probably the right call: even with the Cannes fanfare, the film is destined to remain an extreme niche item, and would get buried in the late-year crush of more accessible highbrow fare.
Strand continue their impressively hand-picked résumé of arthouse titles — other recent adoptees include "The Headless Woman" and "The Edge of Heaven" — though I'm slightly surprised an outfit like IFC didn't take a chance on it. Now all that remins to be seen is whether Thailand select "Uncle Boonmee" as their Oscar pony — not as likely you might think — though it'll be the darkest of horses if they do.