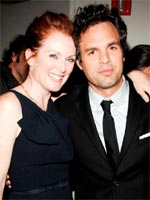 Even in the most evenly matched and mutually dependent of ensembles, it seems, some will always be deemed more equal than others. So it is with this summer's great white indie hope, "The Kids Are All Right." Since the film bowed at Sundance in January, all its players have been warmly received by critics — but it was Annette Bening, as the more authoritative half of a middle-aged lesbian couple, who initially emerged as the consensus standout and likely awards player.
That's understandable in many respects. It's a fine performance, and arguably the film's most surprising: Bening can be a divisively mannered actor, but this is the loosest and most spontaneous she's yet let allowed herself to be on screen. It doesn't hurt that, between the film's adult characters, hers perhaps tests audience sympathies the least.
But in what is plainly a two-lead film at the very least — for my money, there's a convincing case to be made for Mark Ruffalo's intruding third parent as a leading player — people shouldn't be so hasty to hand out best-in-show ribbons.
Regular readers may remember that Kris and I both go against the grain in this respect. Kris has already declared Ruffalo's smartly phlegmatic turn as the standout performance of 2010 thus far. I, meanwhile, went to bat for Julianne Moore in my February review of the film: putting a hippier spin on her characteristic nerviness, even dipping successfully into goofy comedy, it's her liveliest performance since her 2002 career peak and, with Jennifer Lawrence in "Winter's Bone," my favorite from an American actress this year.
Which is why, with the film finally hitting U.S. screens on Friday, I'm glad to see Ruffalo and Moore getting their fair share of publicity, including this rather sweet joint profile in USA Today. Having become firm friends on the set of "Blindness" a few years ago (hey, at least some good came out of it), the two have a gentle, genial rapport that obviously accounts for their easy screen chemistry. (The subject of their sex scenes yields this choice quote from Ruffalo: "People are like, 'How does Julianne Moore look naked?' I don't know. She was pressed up against me the whole time.")
Moore, it turns out, was the first actor attached to the project and helped bring Ruffalo (who initially had to pass due to a scheduling conflicts) on board. That said, they appear to share an equal emotional investment in the project; I particularly like their spot-on takes on their respective characters:
Moore says she liked Jules' "uncertainty the most. She knows she's in-between and in a transitional place, and she's really sensitive to suggestion. I love how quickly she flies off the handle with her girlfriend, out of her own insecurity. She's looking for some kind of validation."

"I like that he seemingly has everything that every young American male wishes he had, but he crashes and burns and it doesn't add up to much in the end," Ruffalo says. "My wife and I knew a famous bachelor in Hollywood. At 75 years old, he still had the 20-year-old models running around and the beautiful art and the house in the hills and a lime-green Mercedes. And on his deathbed, one of the last things he said was, 'I just wish I had a family to share this with.' "
You can read the rest here. Ruffalo, meanwhile, is doing pretty nicely, having scored his own individual profile in the New York Times a few days ago. It's a fun read that doesn't shed light on the actor or his work so much as remind us that he's a terrifically nice guy — but if he's going to hit the campaign trail in a few months' time (and it's hard to imagine that he won't), that certainly bears repeating.
Meanwhile, thanks to regular reader James for alerting me to the news that Ruffalo has signed on to star in another project with a high level of gay interest — the long-considered screen adaptation of "The Normal Heart," Larry Kramer's acclaimed play about the HIV-AIDS crisis in 1980s New York. If "The Kids Are All Right" doesn't bring the guy some overdue awards love, at least there's a plan B.